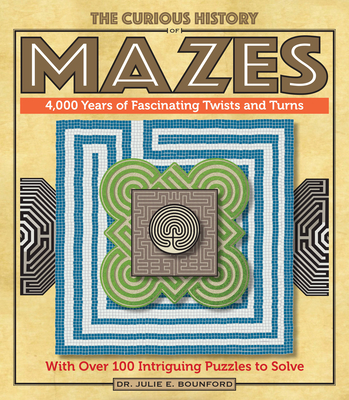 The Curious History of Mazes
4,000 Years of Fascinating Twists and Turns with Over 100 Intriguing Puzzles to Solve (Puzzlecraft #3)
Paperback

* Individual store prices may vary.
Description
Thread your way through this aMAZEing history and delve into a curious experience!​
From prehistoric times, mazes and labyrinths worldwide have served as different symbolic, ritualistic, and practical purposes. Taken as a powerful metaphor for life's journey, they can be used as tools for meditation and learning at any level, even when completed for recreation. Maze images can be enjoyed as motifs themselves, but also in their material forms—a meditation, puzzle, dance, walk, ritual, pilgrimage, or simply a day out. 
Drawing upon a wealth of historical and classical literature; accounts written by explorers, archaeologists, and historians; and the output of modern and contemporary world-renowned experts and enthusiasts, social historian Dr. Julie Bounford explores the evolution of mazes through time and across continents, presenting their history in a fun and engaging format while challenging readers to
solve over 100 mazes
—many created exclusively for this book by illustrator and artist Trevor Bounford. Learn about:
The earliest recorded examples, legends, and mazes in the ancient world
Mazes used as sacred rituals and symbols that take us beyond the natural world
Turf, stone, hedge, and garden mazes, and sites of communal rustic revels
The modern revival, with mazes taken to forms never previously imagined
Explore how mazes can improve your mental dexterity and create mindfulness, and use the gazetteer to locate historical, replica, and interesting mazes that exist around the world today.
The
Puzzlecraft series
from Wellfleet Press tackles some of the greatest conundrums of our time. Learn how to navigate the world's trickiest mazes, solve the most complex crosswords, and finally get the answer to "Why is a raven like a writing desk?" Follow literature's most famous detective, Sherlock Holmes, as he guides you through hundreds of challenging cross-fitness brain exercises inspired by his most popular cases and adventures. You can also train your memory to perform better and learn the meanings behind your own personality traits or the traits of others. These handy and portable paperbacks are sized perfectly to travel, whether on vacation or just for your daily commute. The intricately designed covers and bold colors will capture your attention as much as the engaging content inside.
Other titles in the series include:
The Curious History of the Crossword
;
The Curious History of the Riddle
;
Escape from Sherlock Holmes
;
Sherlock Holmes Puzzles: Code Breakers
;
Sherlock Holmes Puzzles: Math & Logic Games
;
Sherlock Holmes Puzzles: Visual Puzzles
;
Sherlock Holmes Puzzles: Lateral Brain Teasers
;
Solving Sherlock Homes
;
Solving Sherlock Holmes Volume II
;
Maximize Your Memory
; and
The Book of Personality Tests
.  
Wellfleet, 9781577151777, 192pp.
Publication Date: October 2, 2018
About the Author
Dr. Julie E. Bounford hails from Cambridge, England; is a fellow of the Royal Society of Arts; and works independently as a social historian, author and micropublisher. She has extensive experience of researching, writing, and disseminating local and popular history. In 2017 she project managed the Cambridge History Festival and received a personal award from the Cambridgeshire Association for Local History, in recognition of her 2016 illustrated social history of Heffers, famous booksellers since 1876. Julie's blog can be found at www.jebounford.net
or
Not Currently Available for Direct Purchase