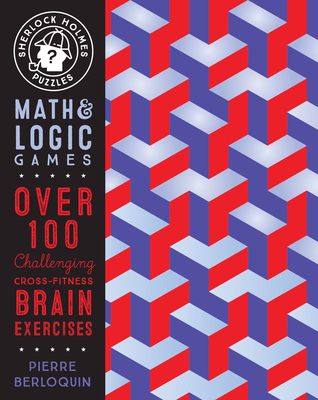 Sherlock Holmes Puzzles (Paperback)
Math & Logic Games: Over 100 Challenging Cross-Fitness Brain Exercises (Puzzlecraft)
Wellfleet Press, 9781577151937, 128pp.
Publication Date: May 12, 2020
* Individual store prices may vary.
Description
Boost your brain power and detox from the digital deluge with over 100 math and logic puzzles with the greatest riddle solver of all time, Sherlock Holmes.
The mind-sharpening puzzles include
monograms
, which strengthen your deductive powers as you correctly fill in a grid to produce a picture; 
logic puzzles, 
which engage your deductive skills to figure out the rules of a maze;
syllogisms
, in which you are given a list of premises to figure out what can be deduced from them; and
logic grid puzzles
, in which a scenario is given and you fill out a matrix with the clues to deduce the solution.
Each book in the
Sherlock Puzzle series
presents
100+ challenging cross-fitness brain exercises
 inspired by literature's most famous detective of all time, Sherlock Holmes, in popular brain game formats to get your
digital detox
started and
your mind in shape
. The games are not only entertaining, but also:
Educate
Improve IQ
Improve cognitive ability
Improve concentration
Improve problem-solving skills
About the Author
Pierre Berloquin is a writer; creator of puzzles, board games, and multimedia games; designer; and a creative consultant. After studying at the École des Mines in Paris, France, he worked as an engineer, consultant, and professor while quickly becoming a renowned specialist of logical and mathematical games. Pierre has written over 50 books of puzzles, many of which are bestsellers.