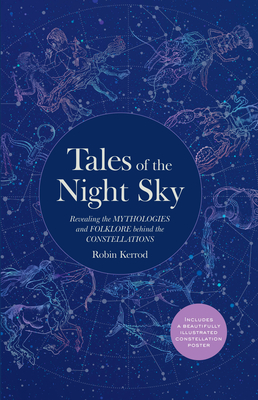 Tales of the Night Sky (Hardcover)
Revealing the Mythologies and Folklore Behind the Constellations
Wellfleet, 9781577152286, 128pp.
Publication Date: September 15, 2020
* Individual store prices may vary.
Description
Tales of the Night Sky presents a striking cluster of unique identification cards and a beautiful companion book shining light on the mythological meaning, cultural significance, wisdom, and philosophy of 20 stellar patterns.
Astronomer and ordained ex-zen monk shines fresh light on stargazing that reflects growing interest in popular and accessible science through mindfulness. Through a mix of both
scientific fact
and
meditative insight
, discover how the mysteries of
the twinkly skies can connect us all more deeply to our inner selves
. Noticing the bright constellations in the night skies above can foster a sense of curiosity, awe, and deep interconnection like nothing else on Earth. Included is a
18 x 24" landscape poster
charting some of
the best-known constellations
of the night sky into a
handy reference map.
For each of the constellations, discover:
Philosophy and lifestyle advice learned from the origin of the constellation
Myths and cultural connections of the constellation
Celestial events that occur annually
The deep sky objects contained in the constellation, including nebulae and star clusters
The stars and planets have been a constant source of fascination since the earliest times, and different cultures have tried to explain the existence of these heavenly bodies with a host of myths and legends. This book
explains the folklore behind the names
and shows how to locate the constellations in the night sky. The quest to discover the secrets in the night skies speaks to something deep in human nature. Become part of the resurgence in the lost art of "reading nature," to
connect both with nature and also with the intuition, traditions, and wisdom of ancient cultures
.