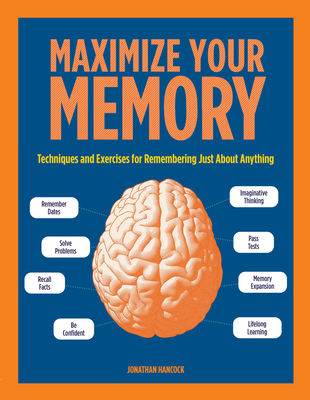 Maximize Your Memory (Paperback)
Techniques and Exercises for Remembering Just About Anything (Puzzlecraft #7)
Wellfleet, 9781577152293, 160pp.
Publication Date: August 25, 2020
Other Editions of This Title:
Paperback, Spanish (9/1/2001)
* Individual store prices may vary.
Description
Learn how to access the world's greatest supercomputer—your mind!—with the tips, techniques, tests, and 50+ training exercises in Maximize Your Memory.
With an emphasis on
how to learn
and exercises to
strengthen your mind as you age
,
Maximize Your Memory
expands your memories into powerful tools that will improve and revolutionize your everyday life and help you conquer personal challenges. Through
creative imagery
,
storytelling
, and
frameworks to map
out things you wish to memorize, you can learn how to log complex, multi-pronged reliable memory.
Learn the basics of memory along with quick tips and tricks before moving into more
specialized recall techniques
, such as the
memory castle
developed in ancient times; how to memorize
names, people,
and
places
; and how to incorporate memory exercises into your life. Also included are tests for your memory skills with imaginative games and practical exercises featured within each chapter.
Memory-training exercises
make remembering fun, easy, and creative.
Most people want to
learn better and faster
,
retain more information
, and
be able to apply that knowledge at the right time
. But the reality is that we forget a lot of what we learn. In fact, research shows that within just one hour, if nothing is done with new information, most people will have forgotten about 50% of what they learned. After 24 hours, this amount increases to 70%, and if a week passes without that information being used, up to 90% of it could be lost. To
improve knowledge acquisition and retention
, new information must be consolidated and securely stored in long-term memory.
Here are just a few ways that your relationship to your memory can be improved:
Use the power of your imagination to remember systematically
Create mental "file cards" for storing information
Learn dates and times, names and faces, foreign languages, directions, presentations, shopping lists, and more
Become a winner at bridge and other card games
Understand how your memory changes over time
Make yourself more memorable in social situations
Get ready to
increase your memory beyond your wildest dreams
.
The
Puzzlecraft series
from Wellfleet Press tackles some of the greatest conundrums of our time. Learn how to navigate the world's trickiest mazes, solve the most complex crosswords, and finally get the answer to "Why is a raven like a writing desk?" Follow literature's most famous detective, Sherlock Holmes, as he guides you through hundreds of challenging cross-fitness brain exercises inspired by his most popular cases and adventures. You can also train your memory to perform better and learn the meanings behind your own personality traits or the traits of others. These handy and portable paperbacks are sized perfectly to travel, whether on vacation or just for your daily commute. The intricately designed covers and bold colors will capture your attention as much as the engaging content inside.  
Other titles in the series include:
The Curious History of Mazes
;
The Curious History of the Crossword
;
The Curious History of the Riddle; Escape from Sherlock Holmes
;
Sherlock Holmes Puzzles: Code Breakers
;
Sherlock Holmes Puzzles: Math & Logic Games
;
Sherlock Holmes Puzzles: Visual Puzzles
;
Sherlock Holmes Puzzles: Lateral Brain Teasers
;
Solving Sherlock Homes
;
Solving Sherlock Holmes Volume II
; and
The Book of Personality Tests
.
About the Author
Jonathan Hancock is the Founder of The Junior Memory Championship, a two-time Guinness World Record-Holder, and former World Memory Champion. Based in the UK, Jonathan has written a dozen books on memory and learning.