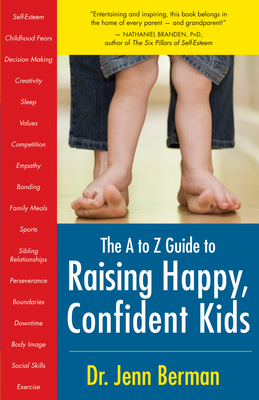 The A to Z Guide to Raising Happy, Confident Kids (Paperback)
New World Library, 9781577315636, 281pp.
Publication Date: April 4, 2007
Description
Parents no longer have time to read long books about the theories of parenting. What they want are quick pieces of advice geared to their busy lifestyles and immediate needs. Dr. Jenn comes to the rescue with this fun yet useful book that offers 26 short chapters on everything from pets to being a sports parent to healthy relationships to food to keeping your marriage as much fun as it was before the children arrived.
Designed to be browsed or picked up from time to time for specific help, the book provides insight and guidance for any parent but focuses on those with toddlers to third grade. Upbeat, lively, and humorous, this book answers parents most frequent questions about how to raise a healthy, well-adjusted child. Because every chapter is only a few pages long and can stand on its own, busy parents can read what they need when they need it.

About the Author
Dr. Jenn Mann has a Bachelors degree from Emerson College in Mass Communications/Journalism, a Masters degree in Clinical Psychology from Antioch University, and a Doctorate in Psychology, specifically Marriage, Child, and Family therapy, from California Graduate Institute. Dr. Jenn is a successful psychotherapist, sports psychology consultant, author, speaker, and media figure. She has a private practice in Beverly Hills, California. Dr. Jenn has appeared on over one hundred television shows in the United States and her foreign work has been broadcast in China, England and Scotland. Currently she is hosting a pilot for Style about addictions. Most recently she appeared on The Oprah Winfrey Show (Syndicated), The Today Show (NBC), she held an intervention on Intervention (A&E) and performed family therapy on Family Forensics (A&E). She has appeared on both local and national news programs including: ABC News, KCAL News, 48 Hours, Breaking News on Fox, NBC News, CBS News and KEYT News; reality shows such as: Intervention (A&E), Married By America (Fox), and National Body Challenge (Discovery); talk shows like Soap Talk (ABC), The Larry Elder Show (syndicated), The Other Half (NBC), The Rob Nelson Show (Fox), and The James Van Praagh Show (KTLA). The doctor has an award-winning column printed in Los Angeles Family Magazine, South Bay Family Magazine, Santa Clarita Magazine, Las Vegas Family Magazine and Ventura Family Magazine called Dr. Jenn in which she writes about family issues. This monthly column won the Parenting Publication of America s silver medal in the area of Child Development and Parenting. She lives in Los Angeles. Donna Corwin is a parenting expert, journalist, lecturer, and the author of seven parenting books including Pushed to the Edge: How to Stop the Child Competition Race So Everyone Wins, Time-Out for Toddlers, and The Challenging Child."
Advertisement