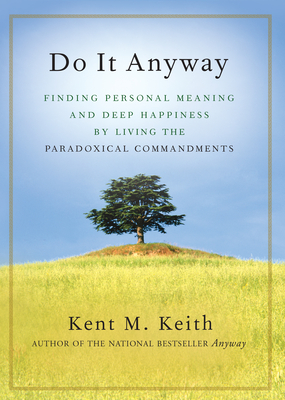 Do It Anyway: Finding Personal Meaning and Deep Happiness by Living the Paradoxical Commandments (Paperback)
Finding Personal Meaning and Deep Happiness by Living the Paradoxical Commandments
New World Library, 9781577316282, 198pp.
Publication Date: May 1, 2008
Description
People are illogical, unreasonable, and self-centered: Love them anyway.
If you do good, people will accuse you of selfish ulterior motives: Do good anyway.
If you are successful, you will win false friends and true enemies: Succeed anyway....
-- from the Paradoxical Commandments Dr. Kent Keith published the Paradoxical Commandments as part of a book he wrote for student leaders in the 1960s when he was an undergraduate at Harvard. These maxims for finding meaning in the face of adversity took on a life of their own, making their way into countless speeches, advice columns, books, institutions, and homes around the world. They were even found on the wall of Mother Teresa's children's home in Calcutta. They became the basis of Keith's bestselling book Anyway: The Paradoxical Commandments. Do It Anyway expands on the vision behind the Paradoxical Commandments. It includes forty stories of people who live the commandments each day and gives you the examples, tools, and encouragement to find personal meaning and deep happiness, no matter who you are or what your circumstances, even when times are tough.
Advertisement