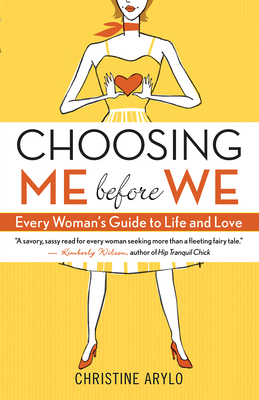 Choosing Me Before We (Paperback)
Every Woman's Guide to Life and Love
New World Library, 9781577316411, 209pp.
Publication Date: February 1, 2009
Description
Full of sass, soul, and the type of empowering wisdom that no woman should live without, Choosing ME before WE is like a heart-to-heart with your closest girlfriend. And best of all, you'll discover that your closest girlfriend is your own truest self, inside you, always ready to offer wise, loving advice about what is best for you. Designed to challenge and guide women to create the relationships they want instead of the ones they often find themselves stuck in, this book is packed with stimulating questions to uncover what's true for you, powerful techniques to change old habits that sabotage your dreams, and real-life experiences shared by the author, her friends, and her clients. Author Christine Arylo, who almost married the wrong guy for all the wrong reasons, speaks to women of all ages, whether they're seeking a relationship, evaluating a less-than-fulfilling one, rebounding from a bad breakup, or working through issues with a partner. Choosing ME before WE teaches women to stop settling, to get real about the kind of partner they're looking for, and to start exploring and creating what they truly want in themselves and their relationships.
About the Author
A new kind of self-love expert, Christine Arylo, inspirational catalyst, takes a fresh approach to redefining self-love for today's woman as hip, hot, and hers. Arylo traded in twelve years of creating powerful images for brands like Visa and Gap, to inspire women to bust through their limiting self-images and self-expectations. As an author, speaker, and coach, Arylo is an expert at helping women get the success and happiness they want by living and loving their most real and wise selves first.
Praise For Choosing Me Before We: Every Woman's Guide to Life and Love…
A savory, sassy read for every woman seeking more than a fleeting fairy tale."
Kimberly Wilson, author of Hip Tranquil Chick

With wit and wisdom, Arylo teaches us how to find the answers about love and relationships inside ourselves. From here we can accomplish our most heartfelt dreams."
Marcia Wieder, founder and CEO of Dream University®
 
Christine Arylo offers the tips and tools a woman needs to fall in love with her ultimate soul mate: herself. And from that foundation, she can find a he' and create a healthy and supportive we.' Every woman should have Choosing ME before WE on her nightstand."
Christine Hassler, author of 20 Something, 20 Everything
Advertisement