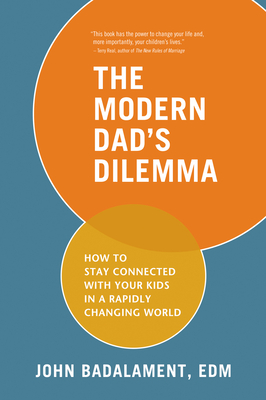 The Modern Dad's Dilemma: How to Stay Connected with Your Kids in a Rapidly Changing World (Paperback)
How to Stay Connected with Your Kids in a Rapidly Changing World
New World Library, 9781577316602, 239pp.
Publication Date: May 11, 2010
Description
More is expected of dads today than ever before. Drawing on his experience working with thousands of dads and families, John Badalament delivers a hands-on approach to meeting the everyday challenges of modern fatherhood. Told through the stories of a diverse group of fifteen real dads who have attended John Badalament's pioneering workshops, The Modern Dad's Dilemma is filled with practical information, road-tested activities, and key skills dads can put to use right away. Learn to:
* Balance family time with work demands
* Build open communication with your kids, no matter how old they are
* Model a healthy relationship with your children's mother
* Sort through your own father's legacy.
About the Author
John Badalament, EdM, is an author, filmmaker, Harvard-trained educator, and internationally recognized speaker on parenting. He is the director of the acclaimed PBS documentary All Men Are Sons: Exploring the Legacy of Fatherhood. He consults with schools, parent groups, and organizations throughout the world. He lives with his wife and two children in Massachusetts.
Praise For The Modern Dad's Dilemma: How to Stay Connected with Your Kids in a Rapidly Changing World…
John Badalament is hands down the most innovative voice in helping men from all walks of life become the fathers they want to be. This book has the power to change your life and, more important, your children's lives."
— Terrence Real, author of The New Rules of Marriage

John Badalament's work will help all of us."
Robert Coles, MD, Pulitzer Prizewinning author of the Children of Crisis series

This book will help you build healthy and prosperous relationships with your children."
Chris Sanders, former NFL wide receiver for the Tennessee Titans

The refresher course that many dads need to reconnect with their children."
Patrick F. Bassett, president of the National Association of Independent Schools

John Badalament's powerful message is as vital for women as it is for men. It is no exaggeration to say that this compelling book could save some lives."
Jean Kilbourne, EdD, coauthor of So Sexy So Soon and author of Deadly Persuasion

John Badalament's message is exactly what this generation of fathers needs. Times have changed, and Badalament gives dads the tools to keep up."
Abigail Tuller, editor in chief of Mom and Pregnancy magazines
Advertisement