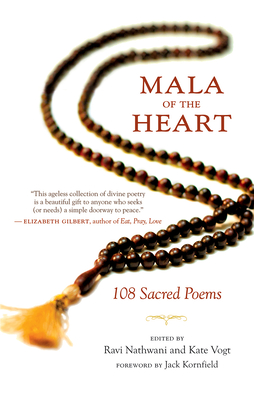 Mala of the Heart: 108 Sacred Poems (Hardcover)
108 Sacred Poems
New World Library, 9781577316770, 130pp.
Publication Date: January 5, 2010
* Individual store prices may vary.
or
Not Currently Available for Direct Purchase
Description
This collection of timeless poetry celebrates the eternal spiritual truth within each heart. Since ancient times, this hidden essence has been symbolized by the number 108. There are 108 earthly desires, 108 human feelings, 108 delusions, 108 beads in the traditional meditation mala, and 108 sacred poems in this anthology.
Filled with crystalline wisdom from the great poets, sages, saints, and mystics, this selection of poems is a collective expression of universal heart-filled wisdom. The poems span a wide range of cultures and civilizations from India to Europe, Japan, and the Middle East and each one offers a unique perspective about the path to awakening.
Some of the poems express belief in a higher being. Some convey instantaneous awakening. Others lead the reader down a disciplined path of contemplation.
Ordered according to a broad interpretation of the heart-centered chakra model, these remarkable poems guide the reader toward realization and offer timeless jewels of insight to spark awakening and enrich spiritual practice.
About the Author
Ravi Nathwani teaches at Tufts University. He also teaches Wisdom Yoga and Buddhist meditation at JFK University and lectures on the Bhagavad Gita, consciousness, and Vedanta. Kate Vogt teaches both classical Yoga and Yoga philosophy privately in San Francisco and Marin County, California, and serves as an instructor of Yoga philosophy at the College of Marin Extension.
Praise For Mala of the Heart: 108 Sacred Poems…
This ageless collection of divine poetry is a beautiful gift to anyone who seeks (or needs) a simple doorway to peace."
— Elizabeth Gilbert, author of Eat, Pray, Love

You hold in your hands a wonderfully crafted set of prayer beads, lovingly fashioned and illuminated in words."
— from the foreword by Jack Kornfield, author of A Path with Heart

I can easily imagine this book being kept close to someone's meditation seat and the poems being used — one by one — forever, over and over again, as sparks that light the way to wisdom."
— Sylvia Boorstein, author of Happiness Is an Inside Job

These 108 poems are gems reflecting timeless love and wisdom — a treasure trove for the soul!"
— Marci Shimoff, author of Happy for No Reason

As I sit in the evening turning my beads, remembering, praying, slowing down just a little bit, I open up Mala of the Heart, read one or two and am guided into a deeper place of being."
— Jai Uttal, musician

These mystic poets use their words to take us beyond words. Soar along with them in this beautiful collection, and find yourself inside the divine mystery."
— Wes Nisker, author of Crazy Wisdom and Buddha's Nature

A superb collection of little mystical gems obviously selected with great sensitivity to contemplative life."
— Larry Rosenberg, author of Breath by Breath
Advertisement