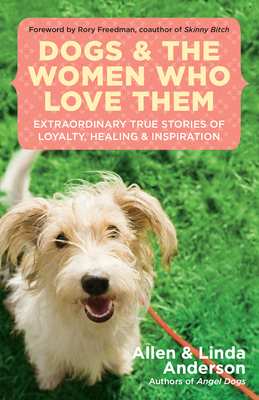 Dogs and the Women Who Love Them (Paperback)
Extraordinary True Stories of Loyalty, Healing, and Inspiration
New World Library, 9781577316923, 233pp.
Publication Date: November 1, 2010
* Individual store prices may vary.
Description
When the nurturing nature of women meets the loyalty and unguarded affection of dogs, remarkable connections ensue. You ll be entertained, inspired, and moved by shelter dogs, police K-9s, dogs rescued from hurricanes and dog fighting, service dogs helping returning veterans, prison inmates who train service dogs, and everyday mutts who transform lives just by providing an exuberant welcome at the end of the day.
About the Author
Allen and Linda Anderson, founders of the Angel Animals Network, are the authors of numerous books on the animal-human connection. They donate a portion of proceeds from book sales to animal welfare organizations and live with their pets in Minneapolis.
Praise For Dogs and the Women Who Love Them: Extraordinary True Stories of Loyalty, Healing, and Inspiration…
When asked, 'Betty, you never remarried! How can you live alone?' my answer is simple: my golden retriever, Pontiac, is my saving grace."
Betty White, actress and author

These stories come from a diverse range of women about a diverse range of dogs and experiences, yet they share one common, uplifting theme: how women and dogs inspire and fulfill one another through love, dedication, and companionship. The Andersons excel at celebrating that special bond."
Debrah R. Schnackenberg, vice president of emergency services, American Humane Association

This book is for all dog lovers, and for those who wish to better understand the human-animal bond. It's an inspiring read and will make you want to hug your best friend!"
Patrick McDonnell, creator of MUTTS

These heartwarming stories of dogs and the women who love them solidify the fact that the animal-human bond is so unique and necessary for enhancing one's life. You'll find a bit of yourself in each tale."
Vanessa Williams, actress and singer

Whether you're a 'normal' dog mom, a psycho dog momor somewhere in between, this book will open your heart, warm your soul, and make you proud to be a dog-loving woman."
from the foreword by Rory Freedman, coauthor of Skinny Bitch

Perhaps because my older sister was a collie, I am never more myself than when in the presence of a dog. Kudos to Allen and Linda for sharing the myriad ways dogs bring joy, healing, and gratitude into our lives."
Wendie Malick, actor and advocate

Once again the Andersons have produced an inspiring book for women who love dogs, this time packed with stories and meditations that will make you smile, weep, and be moved by scenes ranging from Katrina rescues to a dog dazzling David Letterman on his Late Night show. If you have a special relationship with your dogs, this book is for you."
Linda Tellington-Jones, PhD (Hon), founder of the Tellington TTouch Method® and author of Getting in TTouch with Your Dog

Cuddle up with your dog and prepare to be profoundly moved by these heartwarming stories of the special bond that exists between women and their dogs. In reading each story, you will be humbled by the virtuous characteristics of our dog companions who clearly cherish sharing their lives with us. These powerful stories will resonate deeply with anyone who has ever loved a dog."
June Cotner, author of Animal Blessings and Dog Blessings

This charming collection of true stories will affirm people's feelings about the love and spiritual nature of our wonderful canine companions."
Sonya Fitzpatrick, television and radio host and author of What the Animals Tell Me
or
Not Currently Available for Direct Purchase