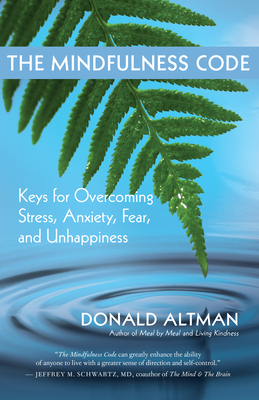 The Mindfulness Code (Paperback)
Keys for Overcoming Stress, Anxiety, Fear, and Unhappiness
New World Library, 9781577318934, 273pp.
Publication Date: June 1, 2010
* Individual store prices may vary.
Description
The price we pay for today's fast-paced, always-connected life is often stress, anxiety, and depression. While drawing on ancient wisdom, Donald Altman embraces twenty-first-century brain science to create practical, everyday strategies for experiencing a less-encumbered, less-entangled state of being. These techniques reactivate natural abilities you already possess. The four keys for unlocking mindfulness are the body, the mind, the spirit, and relationships. Altman presents practices for turning each key toward contentment, confidence, and joy, including shifting our mental and emotional perceptions, inhabiting the body and its "sense-abilities," exploring spiritual connection, and tapping into the healing powers of community and relationship. Inviting and accessible to those new to mindfulness but comprehensive enough for more experienced practitioners, these powerful tools will help you transform your life from the inside out.
About the Author
Donald Altman is a psychotherapist, former Buddhist monk, and adjunct professor at Lewis and Clark College Graduate School and Portland State University. He conducts mindful living and mindful eating workshops nationally. A member of the Burma Buddhist Monastery Association, he lives in Portland, Oregon.
Praise For The Mindfulness Code: Keys for Overcoming Stress, Anxiety, Fear, and Unhappiness…
The Mindfulness Code can greatly enhance the ability of anyone to live with a greater sense of direction and self-control."
Jeffrey M. Schwartz, MD, coauthor of The Mind & The Brain

This well-written book addresses the root problems in anybody's life, and Altman's suggestions will certainly prove beneficial to readers who follow them."
Bhante Henepola Gunaratana, author of Mindfulness in Plain English and Eight Mindful Steps to Happiness

"A peace-promoting prescription for anyone frazzled by life's breakneck speed."
Publishers Weekly

An antidote to the stress and hurriedness of modern life. Donald Altman reminds us that kindness, acceptance, and listening just listening are as admirable and transformative as any work or monetary achievement."
Robert Biswas-Diener, coauthor of Happiness

An engrossing blend of wisdom, humor, insights, and stories along with illustrative research and many helpful mindfulness exercisesThe Mindfulness Code will hand you the keys for unlocking a life of greater ease and happiness."
Roshi Jan Chozen Bays, MD, author of Mindful Eating