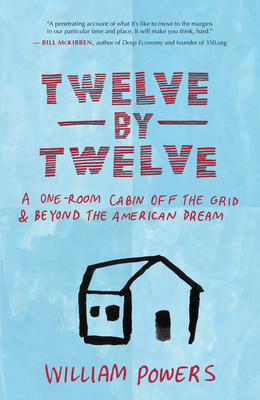 Twelve by Twelve
A One-Room Cabin Off the Grid & Beyond the American Dream
Paperback

* Individual store prices may vary.
Other Editions of This Title:
Digital Audiobook (4/15/2019)
MP3 CD (4/16/2019)
Compact Disc (4/16/2019)
Description
Why would a successful American physician choose to live in a twelve-foot-by-twelve-foot cabin without running water or electricity? To find out, writer and activist William Powers visited Dr. Jackie Benton in rural North Carolina. No Name Creek gurgled through Benton's permaculture farm, and she stroked honeybees' wings as she shared her wildcrafter philosophy of living on a planet in crisis. Powers, just back from a decade of international aid work, then accepted Benton's offer to stay at the cabin for a season while she traveled. There, he befriended her eclectic neighbors -- organic farmers, biofuel brewers, eco-developers -- and discovered a sustainable but imperiled way of life. In these pages, Powers not only explores this small patch of community but draws on his international experiences with other pockets of resistance. This engrossing tale of Powers's struggle for a meaningful life with a smaller footprint proposes a paradigm shift to an elusive "Soft World" with clues to personal happiness and global healing.
Praise For Twelve by Twelve: A One-Room Cabin Off the Grid & Beyond the American Dream…
A penetrating account of what it's like to move to the margins in our particular time and place. It will make you think, hard."
Bill McKibben, author of Deep Economy and founder of 350.org

An honest, courageous, and authentic tale of one gifted writer's attempt to find balance in a world in crisis. Reading this deeply human book has helped me to find a more genuine peace in the midst of the craziness."
John Robbins, author of The New Good Life and Diet for a New America

In this quiet, startling adventure, William Powers brings two worlds into focus simultaneously. He helps us see with fresh eyes the stultifying ugliness, homogeneity, and bankruptcy of a growth-addicted culture. And, at the same time, he helps us rediscover the beauty and liberation that radical simplicity can bring. In his engaging company, we look into the lives of sly, unobtrusive heroes who are building the new in the shell of the old."
Joanna Macy, author of World as Lover, World as Self

How much is enough? And what is really important? These are questions that William Powers runs into again and again in his time off the grid in the U.S. and overseas, but his humble and contemplative memoir handles them with freshness and honesty, recognizing that sometimes asking the questions is more important than finding the right' answers."
Lester R. Brown, president of Earth Policy Institute and author of Plan B 4.0: Mobilizing to Save Civilization

A true story of rediscovery of and reconnection with fundamental truths and values. Enchanting and heartwarming, Twelve by Twelve is a modern-day Walden."
Dr. Thomas E. Lovejoy, president of the Heinz Center for Science, Economics, and the Environment

Powers combines environmental writing in the vein of Thoreau with Zen, economics, warrior presence, and even a touch of dramas of the heart to present a holistic view of contemporary deliberate living. Readers interested in a simpler and more sustainable lifestyle will enjoy the flowing prose and concrete thoughts as they reflect on their own American dream."
Library Journal

For anyone who has considered that there must be an alternative to our busy, speedy, hungry, consuming world, this book shows us the way. William Powers's deeply personal journey reminds us that a return to basics and a simple life may help us to rediscover ourselves, our communities, and the natural world we live in."
Michael Ableman, farmer and author of Fields of Plenty

Powers speaks with the authority of one who has seen the ramifications of the flattening world....Students of environmental and globalization ethics will be just as interested in Mr. Powers' journey as the activist or layperson exploring how to motivate self and the world to move towards sustainability."
ForeWord
New World Library, 9781577318972, 278pp.
Publication Date: May 4, 2010
About the Author
For over a decade William Powers has led development aid and conservation initiatives in Latin America, Africa, and Washington, DC. He is the author of two critically acclaimed memoirs about his time in Africa and South America, Blue Clay People and Whispering in the Giant's Ear. His writings on global issues have appeared in the New York Times, the Washington Post, the Atlantic, Slate, and the Sun. A popular speaker and senior fellow at the World Policy Institute, he lives part-time in New York City.