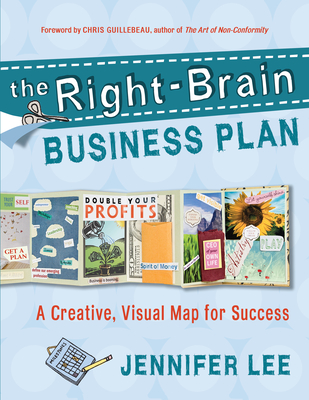 The Right-Brain Business Plan (Paperback)
A Creative, Visual Map for Success
New World Library, 9781577319443, 223pp.
Publication Date: March 15, 2011
* Individual store prices may vary.
Description
Turn Passionate Ideas into Profitable Enterprises Do you dream of making a living doing what you love but find the process of creating a viable business plan like trying to fit a square peg into a round hole? Jennifer Lee knows what it's like to make the entrepreneurial leap -- and how to do it successfully. The key is using, rather than stifling, imagination and intuition. Lee's illustrated, colorful worksheets and step-by-step instructions are playful yet practical, transforming drudgery into joy. They'll enable you to define your vision and nail down plans for funding, marketing, networking, and long-term strategy. Discover how to: * Develop a financial plan with fun and flair
* Select your circle of support to get the work done
* Clarify your business values and goals
* Paint a picture of your business landscape
* Understand your competition and what makes you stand out from the crowd
* Identify your perfect customers and create a marketing plan to reach them
* Map out concrete action steps to bring your Right-Brain Business Plan to life

About the Author
Jennifer Lee, the founder of Artizen Coaching, spent a decade climbing the corporate ladder before pursuing her creative dreams. Through her popular workshops, coaching practice, and writing, she empowers others to follow their passions. She lives in the San Francisco Bay Area.
Praise For The Right-Brain Business Plan: A Creative, Visual Map for Success…
If you think of business planning as boring, well, you haven't read this book yet. This is not business as usual....Jump right in!"
from the foreword by Chris Guillebeau, author of The Art of Non-Conformity

Who says you can't rock Wall Street and wear purple at the same time? Jennifer Lee opens the door for artists, healers, and brilliant souls to take their passion into the marketplace."
Tama J. Kieves, bestselling author of This Time I Dance!

This is one of those rare books I cannot wait to mark up, get paint on, and really use....If you yearn to do your own thing but believe you can't...stop that voice in your head right now and listen to Jennifer Lee's funky, delightful, seasoned help instead."
Jennifer Louden, author of The Life Organizer

Move over, spreadsheets this is business planning for the rest of us."
Andrea J. Lee, CEO of The Wealthy Thought Leader