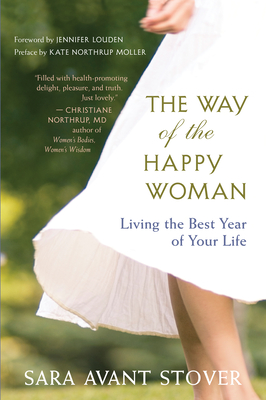 The Way of the Happy Woman
Living the Best Year of Your Life
Paperback

* Individual store prices may vary.
Description
Live in accordance with nature and your soul Our ancestors adhered to the daily, seasonal, and yearly rhythms of nature by necessity, but modern life overrides these cycles, compromising women's health and happiness. In this book, Sara Avant Stover shows how simple, natural, and refreshingly accessible practices can minimize stress and put us back in sync with our own cycles and those of nature. When we honor spring's seedlings, summer's vibrancy, fall's harvest, and winter's quietude, we harmonize our inner and outer worlds. Sara's recommendations nurture the body, invigorate the mind, and lift the spirit. Illustrated yin and yang yoga sequences, one-day season-specific retreats, enticing recipes, and innovative self-reflection techniques make it easy to reconnect with the essential.

Praise For The Way of the Happy Woman: Living the Best Year of Your Life…
Heartfelt and rich with personal stories, this book presents practical wisdom for women of all ages who are seeking to live a healthier, happier life."
— Yoga Journal

Filled with health-promoting delight, pleasure, and truth. Just lovely."
Christiane Northrup, MD, author of Women's Bodies, Women's Wisdom

In The Way of the Happy Woman, Sara Avant Stover offers hundreds of baby steps simple yet deceptively profound toward living a happier, healthier, more balanced life. Even a few of these, practiced regularly, could be transformational. Highly recommended!"
Timothy McCall, MD, medical editor of Yoga Journal and author of Yoga as Medicine

Rest in the nest of this beautiFULL book, and allow it to soak in and beam its wisdom to you. Your way is that of the happy woman, and these words will awaken, inspire, and deeply support you on your way-finding."
SARK, artist, creative fountain, and author of Glad No Matter What

This lovely, born-of-experience book is a primer on how to live in accord with the energies of the natural world. Clear and thoughtful, it will help you remember that even amid the demands of work, school, family, and incessant email, you're still a goddess."
Susan Piver, author of The Wisdom of a Broken Heart and The Hard Questions
New World Library, 9781577319825, 299pp.
Publication Date: May 1, 2011
About the Author
Sara Avant Stover is an inspirational speaker, teacher, mentor, and the founder and director of The Way of the Happy Woman.(R) After a health scare in her early twenties, Sara moved to Thailand, where she embarked on an extensive healing and spiritual odyssey throughout Asia and served as one of the pioneer Western yoga teachers in that part of the world. She now lives in Boulder, Colorado, and continues to teach around the world.