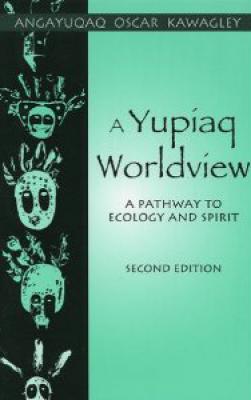 A Yupiaq Worldview
A Pathway to Ecology & Spirit, Second Edition
Paperback

* Individual store prices may vary.
Description
Oscar Kawagley is a man of two worlds, walking the sometimes bewildering line between traditional Yupiaq culture and the Westernized Yupiaq life of today. In this study, Kawagley follows both memories of his Yupiaq grandmother, who raised him with stories of the Bear Woman and respectful knowledge of the reciprocity of nature, and his own education in science as taught in Western schools.



Kawagley is a man who hears the elders' voices in Alaska and knows how to look for the weather and to use the land and its creatures with the most delicate care. In a call to unite the two parts of his own and modern Yupiaq history, Kawagley proposes a way of teaching that incorporates all ways of knowing available in Yupiaq and Western science.



He has traveled a long journey, but it ends where it began, in a fishing camp in southwestern Alaska, a home for his heart and spirit. The second edition examines changes that have impacted the Yupiaq and other Alaska Native communities over the last ten years, including the implementation of cultural standards in indigenous education and the emergence of a holistic approach in the sciences.
Praise For A Yupiaq Worldview: A Pathway to Ecology & Spirit, Second Edition…
"A great book with contemporary issues in politics, economy, and education as well as current adaptations of a native people. I look forward to using it." — Alison Stratton, Quinnipiac University



"Provides an insider's description of a traditional culture as it confronts the arrival of 'modern' Western society. A useful ethnography in an introductory anthropology course." — Paul Bach, Essex County College



"Well done. I was looking for a book that merged spirit with ecology." — Laura Cooper, Kwantlen University College



"An excellent book! As an arctic anthropologist with much interest in consciousness, worldview, etc., I'm glad to see these topics covered in such an accessible manner." — William C. Brower, Johnson State College
Waveland Press, Inc, 9781577663843, 170pp.
Publication Date: March 1, 2006
or
Not Currently Available for Direct Purchase