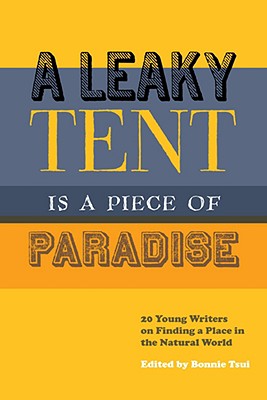 A Leaky Tent Is a Piece of Paradise
20 Young Writers on Finding a Place in the Natural World
Paperback

* Individual store prices may vary.
Description
Warning: This is not your parents' nature writing! A distinctly contemporary take on the genre, A Leaky Tent Is a Piece of Paradise features original essays by twenty gifted writers, all thirty and under, whose strong and diverse voices redefine nature writing for the twenty-first century.
Editor Bonnie Tsui's cast of accomplished contributors wrestle with integrating nature into their lives while putting down rootsoften in urban environments. Included here are the New Yorker's Andrea Walker on learning to hunt with her father; noted fishing author and painter James Prosek on the mythology and mystery of eels; writer Hugh Ryan on being taught how to pitch a tent by a six-foot drag queen at a Radical Faeries camp in Tennessee; poet Cecily Parks on reconciling her adventuress self with her fear of lightning; and African-American journalist Alex Kellogg on rethinking his ideas about race and identity on a visit to Kenya and Eritrea.
Brimming with insight and humor, A Leaky Tent Is a Piece of Paradise rewards us with new perspectives on personal identity in relation to nature, and on the impact of landscape and place on our lives.
Sierra Club Books, 9781578051274, 311pp.
Publication Date: April 1, 2007
or
Not Currently Available for Direct Purchase