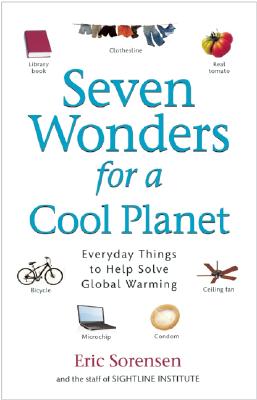 Seven Wonders for a Cool Planet: Everyday Things to Help Solve Global Warming (Paperback)
Everyday Things to Help Solve Global Warming
Sierra Club Books, 9781578051458, 120pp.
Publication Date: April 1, 2008
* Individual store prices may vary.
or
Not Currently Available for Direct Purchase
Description
What do a clothesline, a locally grown tomato, and a microchip have in common? They're all ordinary things that can have an extraordinary impact in the fight against global warming. Carbon dioxide from vehicles, appliances, heating and cooling systems, and other common devices is thickening the Earth's atmosphere and causing dangerous climate changes around the globe. But some everyday things like the seven wonders described in this book can vastly reduce these impacts. The wonders are profiled in short, lively chapters that also explore the key issues behind global warming: transportation ("The Bicycle"), population ("The Condom"), fossil fuel efficiency ("The Ceiling Fan"), renewable energy ("The Clothesline"), food production and distribution ("The Real Tomato"), resource conservation and reuse ("The Library Book"), and the information economy ("The Microchip"). With its inspiring vision and simple but sound explanations of complex processes, this hopeful little book offers a powerful template for personal action.
Advertisement