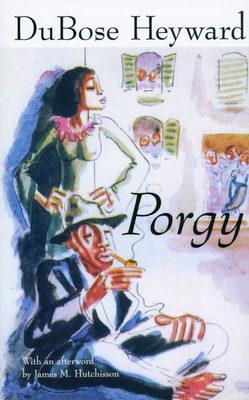 Porgy
Paperback

* Individual store prices may vary.
Other Editions of This Title:
Hardcover (11/4/2008)
Hardcover (6/1/1925)
Paperback (6/1/1925)
Paperback (1/1/2021)
Paperback (11/12/2006)
Hardcover (1/1/2021)
Description
Porgy by DuBose Heyward with an afterword by James M. Hutchisson This is the first major southern novel to portray African Americans outside the stereotypes. This novel is the story of Porgy, a crippled street-beggar in the black tenement. Unwashed and unwanted, he lives just on the edge of subsistence and trusts his fate to the gods and chance. His one shining moment is his pursuit of Bess, whom he wins and then loses during one summer of passion and violence. The fictional characters of Porgy, Bess, Black Maria, Sportin' Life, and the other Gullah denizens of Catfish Row have attained a mythic status and have become inextricably identified with Charleston. This story by DuBose Heyward is, of course, the origin of George Gershwin's acclaimed folk opera Porgy and Bess. Heyward created Porgy with such sympathy, honesty, and insight that Porgy has ascended into the pantheon of the universal. This edition includes an afterword by James M. Hutchisson, Heyward's biographer, who places Porgy in its social and historical context and shows how the novel revolutionized American literature. In 1927, even before Gershwin transformed the novel with a musical score, the book was successfully dramatized for the New York stage. The production revolutionized the black theater movement with its casting of black actors. Porgy, published in 1925, proved to be on the leading edge of the great southern renaissance, in which works by William Faulkner, Eudora Welty, and others would depict black characters of increasingly emotional and psychological complexity. DuBose Heyward (1885-1940) published Porgy to tremendous critical acclaim and financial success. He wrote poetry, short fiction, plays, and screenplays. James M. Hutchisson, a professor of English at The Citadel in Charleston, is the author of DuBose Heyward: A Charleston Gentleman and the World of Porgy and Bess (University Press of Mississippi).
University Press of Mississippi, 9781578063567, 168pp.
Publication Date: March 14, 2001