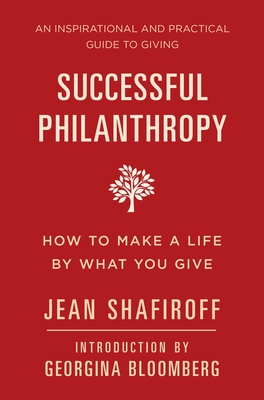 Successful Philanthropy
How to Make a Life By What You Give
Hardcover

* Individual store prices may vary.
Other Editions of This Title:
Paperback (12/3/2019)
Description
Successful Philanthropy is a practical guide to modern giving that redefines philanthropy for today's era. Far more than making monetary donations, philanthropy today encompasses giving time and knowledge, resources that can be just as valuable as financial contributions. Whether you're a new philanthropist, a member of a charity's Board of Directors, or just getting started as a volunteer, Successful Philanthropy offers the practical guidance and inspiring perspective that empowers all of us to take part in building a better world.

The possibilities of philanthropy are almost limitless. Successful Philanthropy removes the guesswork and helps you shape your own personal path, providing much-needed insight and guidance into making philanthropy a lasting part of your life. Learn to identify your passions and interests and discover how they can guide your philanthropic work. Find the best ways to choose a charity that will offer personal fulfillment while also making the best use of your contribution to the cause of your choice. A comprehensive guide, Successful Philanthropy provides details on all aspects of philanthropy, including what most boards look for in a candidate and, for those who are thinking of starting a charity, specific information on what anyone ought to know before venturing in that direction.

Though philanthropy is a big word, it can be practiced in small ways anywhere, and anyone can become a part of building lasting change. Successful Philanthropy discusses the importance of teaching the next generation the value of giving in schools and at home to improve our community, our country, and our world.

Giving back to those in need is among the most rewarding and self-fulfilling parts of being human. Successful Philanthropy invites you to explore the many ways that you can find fulfillment through a lifetime of philanthropic giving.
Praise For Successful Philanthropy: How to Make a Life By What You Give…
"When it comes to giving, Jean Shafiroff leads the pack. To anyone who wants to fundraise, volunteer, or show support by giving, I must stress: Do not keep this book on your bookshelf. Place it on your desk. It should be your bible, your roadmap to success in the world of philanthropy." —Elsie McCabe Thompson, President, New York City Mission Society
 
"Jean Shafiroff's vision for philanthropy, as outlined in this book and carried out in her own life, is one of collaboration, authenticity, and respect. She sets forth a path for philanthropists, new and old, to reflect on their values and discover their own philanthropic identity. As a true reflection of its author, this book embodies a spirit of fierce commitment and dedication to causes greater than one's self." —Ana Oliveira, President and CEO, The New York Women's Foundation
 
"Successful Philanthropy is a call to action to each of us to give back to our communities. It is both a pleasure and an inspiration to read definitions of being a philanthropist and the heartfelt gift of giving, and the manner in which we can all help. Whether in small or bountiful ways, we can all engage in philanthropy. As an engaged and dedicated Board Member of French Heritage Society, Jean epitomizes the values of a true philanthropist; she is generous, caring, concerned, and determined. With this same passion, she has written a book that is both inspiring but also equally practical in its detailed explanation of how individual philanthropy can be understood and pursued by each of us. I am sure, with the admirable new modern interest in philanthropy, that this book will be appreciated by many, and serve as an inspiration to others." —Elizabeth F. Stribling, Chairman, French Heritage Society
 
"Jean Shafiroff is a force of nature. She is one of the most passionate and compassionate donors that I know. In this handy, easy-to-read volume, she lays out everything a budding philanthropist needs to know to get started, to make smart decisions and, ultimately, to make an impact in the world through philanthropy. I recommend it."  —David Rivel, CEO, Jewish Board of Family & Children's Services
 
"To understand philanthropy you can either read Jean Shafiroff's book or you can simply experience Jean Shafiroff. I am fortunate to have done both. While the etymology of the concept of 'Doing well by doing good' is often attributed to Benjamin Franklin, the behavior is quintessential Jean Shafiroff. She evokes the true spirit of giving, philanthropy, and volunteerism every day of her life in her passion for and service to important causes and organizations." —Steven M. Bernstein, President, Southampton Hospital Foundation
 
"Successful Philanthropy is both a passionate call to action for philanthropists and an invaluable manifesto for all of us who endeavor to make a difference in the not-for-profit community by giving of our time, talent, and financial resources. Scarcely a philosophical treatise, Jean Shafiroff's book is a pragmatic guide to giving that is modeled on her own remarkable life experience as a successful philanthropist and volunteer."  —Robert S. Chaloner, President and CEO, Southampton Hospital
 
"Jean's 'call to action' derives from her generous spirit and compelling interest in making the world a better place. Taking a serious, fresh look at giving, she is both a skilled mentor and an inspiration."  —Robert Ferguson, Vice President for Development, Fashion Institute of Technology
 
"Philanthropy entails the giving of one's time, one's resources, and of oneself. Having worked successfully with Jean Shafiroff on behalf of the Southampton Animal Shelter Foundation, her knowledge and dedication in the field is highly respected. The reader will benefit from Jean's extensive experience that is found in her book." —Jonathan W. McCann, Board President, Southampton Animal Shelter Foundation
Hatherleigh Press, 9781578266173, 288pp.
Publication Date: March 8, 2016
About the Author
Jean Shafiroff is an American philanthropist. She graduated from Columbia University Business School and has worked in public finance and in private partnerships on Wall Street. She serves on many philanthropic boards including the New York Women's Foundation, Couture Council, Jewish Board of Family and Children's Services, and the French Heritage Society. She was recently elected to the Board of Directors of the NYC Mission Society, a nonprofit organization dedicated to helping out families in New York City's impoverished neighborhoods. Jean is married to Martin D. Shafiroff, managing director of Barclays, and splits her time between Manhattan and Southampton, NY.
or
Not Currently Available for Direct Purchase