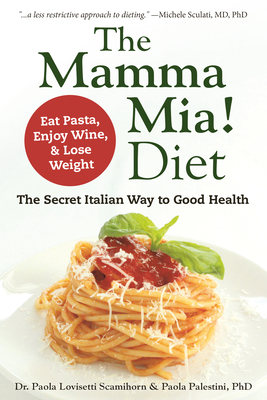 The Mamma Mia! Diet
The Secret Italian Way to Good Health - Eat Pasta, Enjoy Wine, & Lose Weight
Paperback

* Individual store prices may vary.
Description
Eat pasta, enjoy wine, and lose weight—this unique diet plan unites the health benefits of a Mediterranean-style program with Italian flair and flavor

The Mamma Mia! Diet is more than just a meal plan—it's a complete lifestyle guide. Based on an improved version of the classic Mediterranean diet, it provides you with modernized versions of healthy Italian dishes to help you lose weight while still feeling full and satisfied.

Research continues to show that eating Mediterranean is an effective way to lose weight, manage diabetes and cardiovascular health, and increase longevity. Based on the cooking and eating style of Italy, the Mamma Mia! plan features olive oil, fruits and vegetables, nuts, legumes, fish and poultry, whole grains and, yes—wine!
 
• Doctor Recommended: Based on the time-tested Mediterranean diet, combined with a modern twist, The Mamma Mia! Diet is grounded in traditional and science. It gives you everything you need to make lasting lifestyle choices leading to better health, higher energy levels, and increased longevity.

• Enjoy What You Eat: Each meal is specifically crafted with three guiding principles in mind: achieving maximum nutritious value, maintaining the authentic taste of real Italian cuisine, and providing satisfying, filling portions that will leave you feeling energized all day long.

• Easy to Follow: Every meal featured in The Mamma Mia! Diet can be made quickly and easily using commonly found foods—requiring no special skills.
 
Packed with nutritious, flavorful Italian recipes and expert advice, The Mamma Mia! Diet is a healthy weight loss diet everyone can enjoy!
Praise For The Mamma Mia! Diet: The Secret Italian Way to Good Health - Eat Pasta, Enjoy Wine, & Lose Weight…
"...a less restrictive approach to dieting." —Michele Sculati, MD, PhD


"...has reinvented great authentic Italian cuisine." —Sheila Johnson, co-founder of BET and CEO of Salamander Hotels and Resorts, USA

"...written in a friendly, understandable way that brings common sense to the science of losing weight. The reader learns not just what to do to gain the benefits of the MMD, but why, and that makes all the difference." —TwoClassyChics.com

"More variety than any other diet; Fundamental nutrition grounded in tradition and science; Incredible dishes packed with nutrition and authentic Italian flavor; A diet that nourishes both the individual and the family—all in one." —Midwest Book Review
"After a week and a half my husband lost 6 pounds and I lost 2 pounds...we both had more energy and neither of us felt hungry or deprived." —Beth Gonzalez

"...helped me lose weight and feel more energetic! After just four weeks I lost 8 pounds and feel better. " —Marcia Ridenour

"The Mamma Mia! Diet made me feel energetic and lighter in just a few days, still allowing me to eat all of my favorite foods. The recipes are delicious and easy to make, and the tips are useful to figure out your best choices when you dine out or travel. It's a diet that I know I can turn into a lifestyle for me and for my whole family."
—Francesca Rinonapoli
 
"Works without feeling like any kind of traditional diet plan. It's not about starvation or taboo foods. Drink that glass of great wine; enjoy the best made pasta."
—Patti Herman
 
"The Mamma Mia! Diet combined with a mild exercise program have allowed my body to shed over five pounds in less than three weeks! This is a lifestyle program that I can adapt whether at home or eating out. "
—Marilynn Badzik
 
"I trimmed up and still have more energy than ever. Definitely a must-read for anyone looking for a fresh take on the Mediterranean diet."
—Yahaira Serrano, DMD
 
"I have been following The Mamma Mia! Diet for a few weeks and I've already lost 7 pounds! I am starting to feel more energetic than I have in years. "
—Julia Young
 
"I feel more energetic and thankful for the loss of a few pounds! "
—William Philips
Hatherleigh Press, 9781578267323, 352pp.
Publication Date: February 27, 2018
About the Author
Paola Lovisetti Scamihorn is an Italian pharmacist, researcher and food writer with particular attention to healthy eating. Cooking, eating healthy food and staying active have always been her life-long passion and way of life. She has a cooking blog "Passion and Cooking" and contributes to several international magazines. She has previously published in Italy Love is Eating, focusing on Italian culinary culture.

Paola Palestini is a biochemistry professor at the Medical School of the University Milano-Bicocca, Italy. She is the coordinator of the Masters in Nutrition and Applied Dietetic programs in addition to teaching in many degree courses including medicine, physiotherapy, nursing, nutrition, and neurology. Recently, Paola has been actively involved in the promotion of the principles of a healthy diet through conferences and in collaboration with several magazines. She is the author of seventy-six scientific articles published in international journals.
or
Not Currently Available for Direct Purchase