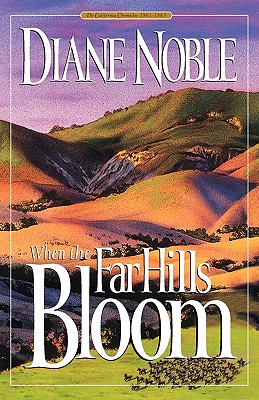 When the Far Hills Bloom (Paperback)
WaterBrook Press, 9781578561407, 384pp.
Publication Date: June 15, 1999
* Individual store prices may vary.
or
Not Currently Available for Direct Purchase
Description
A SWEEPING SAGA AN EPIC ADVENTURE AN ENDURING LOVE STORY. From the romance of early California's ranchos and valleys of wild horses, to the stark beauty of New Mexico's highlands, "When the Far Hills Bloom "weaves an unforgettable tale of heroism and loyalty, honor and betrayal.
Aislin Byrne harbors a powerful love for the wild, untamed lands of Rancho La Paloma. The threat of its financial ruin only strengthens her feelings and seals her resolve to save her home. But the fight to rescue the rancho will draw her into a drama rife with conflict and secret sorrow, and launch her on a desperate journey that will test her mettle and change her life forever.
Throughout her quest, Aislin is haunted by the love of two brothers: Jamie, a natural authority figure driven to leadership and perfection; and Spence, a gifted horseman and healer who is more at home with wild horses than with people. But only one man can claim her. And it will take a daring scheme to save her beloved land before Aislin's heart can choose
About the Author
Diane Noble was born and raised in California. She is the author of eight previous novels, three novellas, and three nonfiction books. "When the Far Hills Bloom" is the first book in her new historical series, The California Chronicles. Diane and her husband Tom, a history professor, live with their cat Kokopelli in Idyllwild, California, high in the rugged San Jacinto mountains. Diane also writes as Amanda MacLean.
Praise For When the Far Hills Bloom…
PRAISE FOR
WHEN THE FAR HILLS BLOOM
 
"Far Hills is a beautiful story of true love, loyalty, and betrayal. It gripped my emotions from the very beginning, and didn't let them go. Diane Noble is a master storyteller!"
—TERRI BLACKSTOCK
 
"When the Far Hills Bloom has everything I look for in a great novel—high drama, unexpected twists and turns, heart-tugging romance, and genuine, true-to-life conflicts. I not only fell in love with the characters, I fell in love with California in all her untamed glory. This is Diane Noble's best work yet!"
—LIZ CURTIS HIGGS
 
"Inside Tip of the Day: If you're looking for a great excuse to not do any housework, grocery shopping, or anything else for several days (if you can sleep), read Far Hills. This irresistible novel has an epic feel that made me think of romantic movies like Far and Away. I anxiously await the following two books in the series, as well as anything else that Diane Noble chooses to write."
—LISA TAWN BERGREN
 
"An engrossing historical novel, Far Hills has it all—love, suspense, heartache, and the triumph of the human spirit when coupled with abiding faith. I was irrevocably drawn into the drama of the Dearbourne and Byrne families, eagerly turning the pages to see what would
happen to them next. I'll definitely be watching for future Diane Noble releases."
—ROBIN LEE HATCHER
 
"Diane Noble never fails to speak to the heart of the matter. With spiritual insight, wisdom, and joyous celebration, she leads us to a greater understanding of God—and of ourselves."
—ANGELA ELWELL HUNT
Advertisement