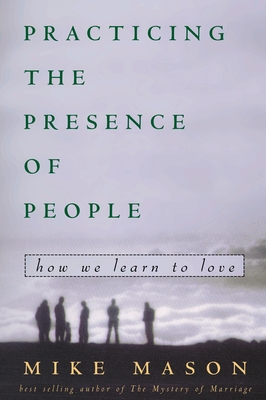 Practicing the Presence of People: How We Learn to Love (Paperback)
How We Learn to Love
Waterbrook Press, 9781578562657, 288pp.
Publication Date: October 19, 1999
Description
In the deepest part of our hearts and souls is the desire to love well. Yet in our struggle to do so, we learn that, as Mike Mason puts it, "We are not born with love; it is something we must learn." Now, in Practicing the Presence of People, he helps us launch that learning process. Mason points the way to fresh knowledge and fresh experience, showing how we can discover new things about those we love, understand them from the inside out, tenderly identify with their weaknesses, and celebrate that they too were lovingly made by the hand of God.
About the Author
Mike Mason is the author of the best-seller The Mystery of Marriage and The Gospel of Job. A full-time writer for fifteen years, he attends Pacific Community Church. He and his wife, Karen, a M.D. in general practice, live in Langley, Brittish Columbia, Canada with their daughter.
Advertisement