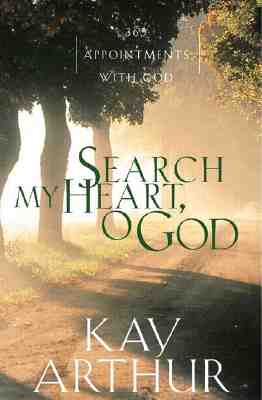 Search My Heart, O God: 365 Appointments with God (Hardcover)
365 Appointments with God
Waterbrook Press, 9781578562749, 416pp.
Publication Date: October 19, 1999
Description
In her new daily devotional book, Search My Heart, O God, Kay Arthur walks with readers through 365 days of probing, challenging readings. Through insightful, thought provoking, and refreshing questions, readers will address the most important issues of life, bringing them back continuously to the answers in God's word and the desires of His loving heart.

A one-year devotional uniquely designed to offer more than just inspiration and encouragement, Search My Heart, O God lovingly challenges and strengthens readers to live out their commitment to the Lord in dramatic, powerful ways every day. Within these pages, beloved Bible teacher Kay Arthur guides readers in a daily examination of their hearts before God.

Through insightful, thought-provoking, and refreshing questions, Search My Heart, O God tackles such vital topics as marriage and family relationships, sexual purity, integrity, faith in the midst of hardship, trust in God's omnipotence, true surrender and obedience, daily priorities, contentment, perseverance, and more - urging readers to delve into God's Word for answers to the dilemmas of the day, and to let Scripture shine into the corners of their hearts.

Written with the words of a loving friend and partner in the journey, Search My Heart, O God brings readers back time and again to the plumbline of God's Word so they can learn - and reflect every day - the values crucial to godly living. As always, Kay Arthur brings a perfect balance of exhortation and love, giving readers practical, biblical direction to start each day in full surrender to God.


About the Author
Kay Arthur is the award-winning author of more than 100 books and Bible studies. The acclaimed Bible teacher is also the host of Precepts for Life broadcasts that reach a worldwide audience of more than 94 million. She resides in Chattanooga, Tennessee.
Advertisement