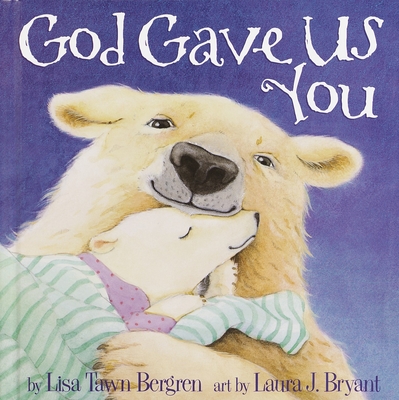 God Gave Us You (Hardcover)
Waterbrook Press, 9781578563234, 40pp.
Publication Date: September 19, 2000
Description
When a charming polar bear cub climbs into bed one night, she asks her Mama a very important question--one that little "human cubs" often wonder about, too: "Where did I come from?" As Mama bear tucks her youngest cub under the quilts, she gently, tenderly, and reassuringly communicates the message loving parents everywhere (bears and non-bears alike) want their little ones to hear: "We wanted you very, very much, and we are so very glad because--God gave us you." Perfect for bedtime, naptime, storytime or anytime, God Gave Us You provides a valuable opportunity to build children's self-esteem every day and assure each one that he or she truly is a welcomed, precious, and treasured gift from the Lord. Also available in the God Gave Us series:
God Gave Us Two
God Gave Us Christmas
God Gave Us Heaven
God Gave Us Love
God Gave Us So Much
About the Author
Lisa Tawn Bergren is the award-winning author of nearly thirty titles, totaling more than 1.5 million books in print. She writes in a broad range of genres, from adult fiction to devotional. She makes her home in Colorado, with her husband, Tim, and their three children. Visit her website at LisaTawnBergren.com Laura J. Bryant studied painting, printmaking, and sculpture at the Maryland Institute College of Art in Baltimore. She has illustrated numerous award-winning children's books, including God Gave Us You, Smudge Bunny, and If You Were My Baby. Laura lives in Asheville, North Carolina.
Advertisement