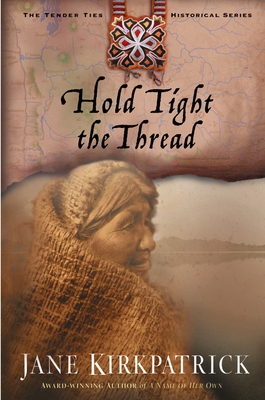 Hold Tight the Thread (Paperback)
Waterbrook Press, 9781578565016, 432pp.
Publication Date: April 20, 2004
Description
BASED ON A TRUE STORY
"In a land occupied by foreign powers and torn by confusion and conflict, a mother seeks to weave her family and her past into a fabric that will not tear.
"
Their Lives Were Woven by Wars and Wilderness Places, and Tied by the Peace of Family and Faith.
As the 1840s bring conflict to the Pacific Northwest's rugged Columbia Country, new challenges face Marie Dorion Venier Toupin: the wife, mother, and Ioway Indian woman who crossed the Rocky Mountains with the Astor Expedition, the first big fur trapping expedition after Lewis and Clark's. On French Prairie in the newly forming Oregon Territory, Marie strives to meet the needs of her conflict-ridden neighbors: British settlers and Americans, missionaries and disease-stricken natives, fur trappers and French Canadian farming families, and the surviving natives of the region.
At the same time, as a mother, Marie must weave together the threads of an unraveling family. One daughter compares and judges as she seeks to find her place; another reaches for elusive evidence of her mother's love. Marie's memories are threatened with the emergence of a figure from the past. In the midst of this turmoil, Marie discovers an empowering spiritual truth: Unconditional love can shed light on even the darkest places in the heart.
About the Author
Jane Kirkpatrick is a best-selling author whose novels include the BookSense 76 Selection "A Name of Her Own, Every Fixed Star, "and the acclaimed Kinship and Courage series: "All Together in One Place, No Eye Can See, "and "What Once We Loved. "Jane is a winner of the Wrangler Award from the Western Heritage Center and National Cowboy Hall of Fame. She is also a Licensed Clinical Social Worker, inspirational retreat leader, and speaker." "
Praise For Hold Tight the Thread…


Praise for Books 1 and 2 in The Tender Ties Historical Series

"Jane Kirkpatrick writes from a depth and richness of detailed research and from a genuine affection and respect for her characters. She gives us strong, admirable women with sensitive spirits, courage, and the capacity for unconditional love. Hold Tight the Thread is a thoughtful, skillfully prepared feast for those of us always hungry for more quality historical fiction. Like her other novels, this is a story that allows us to experience the struggles and adventures and faith of another time through characters we can learn to know–and love."
--B.J. Hoff, author of The American Anthem series and An Emerald Ballad

"Hold Tight the Thread is such a satisfying ending to a wonderful trilogy on the life of such a memorable woman, Marie Dorion. I learned so much even as I felt a range of emotions —sad, happy, bittersweet, and triumphant. I love this book!"
--Linda Hall, author of Steal Away and Chat Room

"I highly recommend Every Fixed Star. Jane Kirkpatrick's storytelling is deft and true; she breathes life into the long-ago Oregon country with warmth, emotion, and a deep understanding of the region's people and past. With depth, creativity, and inspiration, Every Fixed Star provides a fresh view of this period in the Pacific Northwest's history, showing the complicated dynamics between settlers, fur traders, missionaries, natives, and visionaries. Jane has vividly captured the history of the fur trade for intelligent women readers."
–Laurie Winn Carlson, author of Seduced by the West and On Sidesaddles to Heaven: The Women of the Rocky Mountain Mission

"Jane Kirkpatrick has a rare gift, for her novels touch both the emotions and the intellect. She fills her stories with living history, each rich detail carefully researched and woven into a very particular time and place–the Columbia Country of the 1820s. And yet, Every Fixed Star is far from a dry history; rather, it is the moving, heartfelt story of one woman's journey toward accepting her own failings as a wife and as a mother–a struggle common to every woman in every century. Through Marie's 'heart knowing,' we are forced to examine our own hearts and lives and emerge the better for it. Jane's novels are more than a 'good read'; they are a life-altering experience."
–Liz Curtis Higgs, author of Thorn in My Heart

"[An] evocative, imagined retelling of the story of Marie Dorion, the remarkable Iowa Indian woman who crossed the continent with her young sons and her mixed-blood husband in 1811 as part of the first grand expedition after Lewis and Clark… As always, the historically accurate details are woven in with care, and the characters are fully imagined. At the story' s end, the reader absolutely believes 'Marie was an Ioway woman of the Gray Snow people; gray like the stuff that strengthened bones.' A truly fine book."
–The Denver Post, in praise of A Name of Her Own, Book One of the Tender Ties Historical series
Advertisement