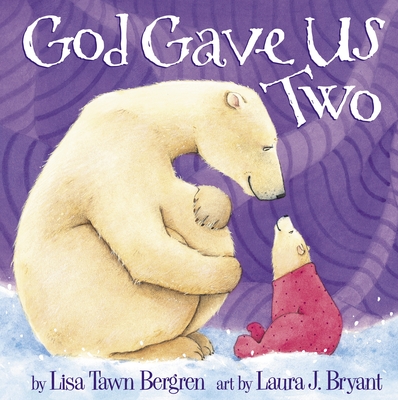 God Gave Us Two (Hardcover)
Waterbrook Press, 9781578565078, 40pp.
Publication Date: September 18, 2001
Description
Now that Mama polar bear has another baby in her tummy, Little Cub is bursting with curiosity. -Why do we need a new baby?- she asks. -If we don't like the new baby, can we send it back?-
-Will you forget me when the new baby comes?-
Gently and lovingly, Mama and Papa assure their firstborn that the new baby is a gift from God they want very much, just as Little Cub was-and still is.
-God gave us you. Now he's given us two -
The winsome sequel to God Gave Us You, God Gave Us Two playfully affirms a child's uniqueness and place in the family and helps little ones accept, appreciate, and love their new siblings.
About the Author
Lisa Tawn Bergren is the best-selling author of ten novels, three novellas, and two gift books, with nearly 700,000 books in print. This is her second children's book, following the best-selling release God Gave Us You. Lisa makes her very-messy-but-cozy home in Colorado with her husband, Tim, and their daughters, Olivia and Emma. ILLUSTRATORBIO: Laura J. Bryant attended the Maryland Institute of Art, where she received a strong foundation in drawing, painting, and print-making, with supplemental education in children's writing and book making. Illustrating children's books has provided her with both a rewarding and creative career. Laura's clients have included Simon & Schuster, McGraw Hill, Steck-Vaughn, and Penguin Putnam books for Young Readers, among others. She currently lives with her husband nestled in the Shenandoah Mountains of Mathias, West Virginia.
Advertisement