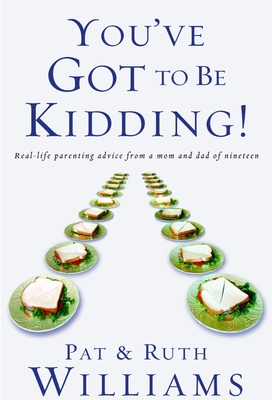 You've Got to Be Kidding!: Real-Life Parenting Advise from a Mom and Dad of Nineteen (Paperback)
Real-Life Parenting Advise from a Mom and Dad of Nineteen
Waterbrook Press, 9781578567034, 256pp.
Publication Date: June 22, 2004
Description
Kid-Tested (and Tested, and Tested ) Guidance for Parents in the Trenches.
The Inside Track to Raising Kids.
Most of us find raising one, two or maybe three or four children to be challenging enough. The idea of parenting a half dozen seems almost crazy, and more children than that impossible. But Pat and Ruth Williams have together raised (and are continuing to raise) nineteen kids. More importantly, they ve not just survived the process they ve loved it
What do they know that the rest of us don t? What does it take to make a family of any size not only work, but thrive? After bringing up nineteen kids as biological parents, adoptive parents, single parents, and step-parents Pat and Ruth Williams have gained a volume of insights and experience that will enrich your home, strengthen your family, and help you be the parent you want to be. Inside you ll find counsel that really works whether you re raising one child, one dozen (or more), or any number in between.
About the Author
Pat Williams is senior vice-president of the NBA s Orlando Magic, one of America s top motivational speakers, the host of a weekly sports radio show, and the author of over thirty books, including "Go for the Magic. "Ruth Williams is a consultant with FranklinCovey Company and the co-author of "How to be Like Women of Influence. "Together, they are the parents of nineteen children, including fourteen adopted from four nations. The Williams family has been featured on all major television networks, the Focus on the Family radio broadcast, and in numerous publications including "Sports Illustrated, Readers Digest, Family Circle, "and "The Wall Street Journal.""
Praise For You've Got to Be Kidding!: Real-Life Parenting Advise from a Mom and Dad of Nineteen…
"I'm a parent of six. At times it seemed impossible! But nineteen? Incredible! Yet through such an enormous responsibility comes life lessons for us all. Wow! I mean, oh my!"
–DICK ENBERG, sports broadcaster

"This is the most wonderful guide for raising happy, healthy, self-confident children ever written! It will transform you, your children, and your home."
–BRIAN TRACY, motivational speaker and best-selling author

"You've Got to Be Kidding! is down to earth, full of biblical wisdom, and touches all the bases! Parents are in for a great read and will be greatly helped in raising their kids for God."
–JIM CYMBALA, pastor, Brooklyn Tabernacle Church

"This is more than a book–let's call it an incredible guide for living, whether you're a parent or not. Thank you, Pat and Ruth, for setting this high standard for all of us."
–CHRIS SCHENKEL, Hall of Fame sportscaster

"Pat and Ruth Williams are real and relevant as they share the delightful pleasures and the painful realities of raising nineteen children from various cultures within their own blended family. With the application of God's Word and prayer, they have magnificently and responsibly accepted all the challenges. Their story will enrich your own efforts through the marathons of life."
–CYNTHIA SWINDOLL, president and CEO, Insight for Living
Advertisement