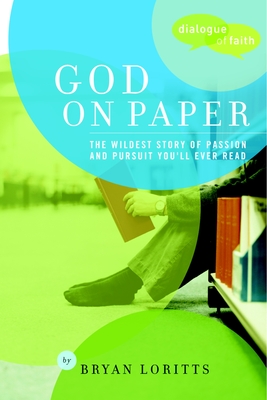 God on Paper (Paperback)
Waterbrook Press, 9781578567904, 176pp.
Publication Date: January 11, 2005
Description
The Bible is the most quoted book in the western world, and likely the most misunderstood. It is often thought to be little more than religious mythology, or a collection of moral and ethical guidelines, or a series of quaint but irrelevant legends.
But what if the Bible were read on its own terms, as a highly personal and unbelievably passionate love story? What if the Bible is really a wild tale of relentless pursuit, the diary of a God who can t bear to be separated from the people he loves?
In "God on Paper" you ll share in a conversation that takes a new look at Scripture, a dialogue that entertains doubts and questions about the value and the validity of the Bible. And you ll encounter an amazing love story of divine proportions.
Go ahead and join the conversation. You might be surprised by what you find.
About the Author
Bryan Loritts is the teaching pastor at Fellowship Bible Church, a multicultural church ministering to the evolving community of urban Memphis, Tennessee. He has a master s degree in theology from Talbot School of Theology. Bryan and his wife have two sons and live in Memphis.

E. Glenn Wagner, general editor of the Dialogue of Faith series, is the senior pastor of Calvary Church in Charlotte, North Carolina, and a former vice-president and the minister at large for Promise Keepers. He holds a Ph.D. in religion and society from Oxford Graduate School and D.Min. from Northwest Graduate School. He is the author of numerous books, including "Escape from Church, Inc. "and" The Church You ve Always Wanted." Glenn and his wife, Susan, have two children."
Praise For God on Paper…
"If you've got your bags packed and are ready to go and incarnate the gospel in this culture, think again. Better let the books in the Dialogue of Faith series rearrange what you take with you. Already this series has shown me my desperate need to unpack some baggage and repack for the challenges of tomorrow."
–Leonard Sweet, author of Out of the Question…Into the Mystery

"God on Paper gently and passionately tells God's Big Story. The beauty of scripture is intensified through the author's dialogue with his conversation partner, Darius. This is much more than a book of great stories (though it is filled with them!)–it paints The Story."
–Mark Oestreicher, president of Youth Specialties

"Here is the compelling tale of the greatest love story ever told. Bryan Loritts shares God's love in a real and winsome way–a way that encourages and inspires, yet creates tension as he examines who God is and why God desires a relationship with us. This book will help you tell The Story to others."
–Dennis Rainey, author, president of FamilyLife

"Bryan Loritts's conversation with Darius demonstrates that the reality of God, His story, and the Gospel of Jesus Christ must be sent and received in different ways in every generation. The natural weaving of the biblical text with story and everyday life connects with a rapidly growing number of people who best receive God's truth through relationship."
–Tim Osborn, lead pastor of Warehouse at Lake Avenue Church, Pasadena, California

"God's activity in human history comes alive as you read these pages. Your heart will be warmed and deeply moved by this portrait of authentic Christianity and by the depths of God's love and passion for people!"
–Dr. Crawford W. Loritts Jr., speaker, author, radio host
Advertisement