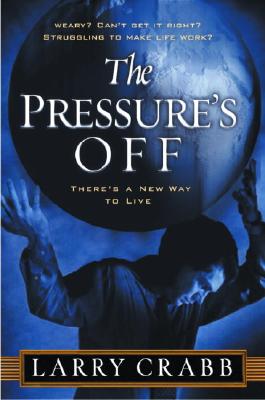 The Pressure's Off: There's a New Way to Live (Paperback)
There's a New Way to Live
WaterBrook Press, 9781578568451, 240pp.
Publication Date: March 16, 2004
* Individual store prices may vary.
or
Not Currently Available for Direct Purchase
Description
There are two basic approaches to life–two pathways. One creates pressure, the other provides freedom.

In the Old Way of life, as best-selling author, psychologist, and spiritual director Larry Crabb describes it, "you have decided that what you most want out of life is within your reach, and you are doing whatever you believe it takes to get it." But in the New Way of life, "you have realized that what you most want is beyond your reach, and you are trusting God for the satisfaction you seek. You want Him. Nothing less, not even His blessings, will do."

The Old Way–the way most Christians define life and pursue fulfillment–is fundamentally wrong and harmful. It leaves us tired, in bondage, and feeling distant from God. But the New Way brings true freedom and refreshment as we tap into the power to draw closer to God in a personal way.

"We can't always make life work. But we can always draw near to God. There is a different way to approach our problems. There is a NEW WAY to live." —Larry Crabb
About the Author
Dr. Larry Crabb is the founder of New Way Ministries and a best-selling author, psychologist, and spiritual director who is known internationally not only through his many books, but also as a leading seminar and conference speaker for the past two decades. Some of his landmark books include "Inside Out, Finding God, The Marriage Builder, Connecting, " and "Shattered Dreams. "Larry currently serves as Distinguished Scholar in Residence at Colorado Christian University, and has served on the faculties of Regent College, Grace Theological Seminary, Florida Atlantic University, and the University of Illinois. He had a private practice in clinical psychology for ten years. Larry and his wife, Rachael, have two grown sons and two grandchildren, and live near Denver, Colorado.
Praise For The Pressure's Off: There's a New Way to Live…
Praise for The Pressure's Off

"If, like me, you see blessing-centeredness rather than God-centeredness as a great weakness of American evangelicalism, you will hail this exploration of the freedom and joy of grace as timely therapy, a word in season that we all needed. May it be widely read and thoroughly digested."
—J. I. PACKER, theologian and author of Knowing God

"The evangelical church, choking under a pervasive legalism/moralism that suffocates the human spirit, finds a powerful voice for freedom in Larry Crabb. Writing from the inside out, he presents a vibrant way of living with
passion and without pressure."
—BRENNANMANNING, author of Ruthless Trust

"C. S. Lewis wrote about prosperity knitting us to this world, and while we are seeking our place in the world, the world is actually finding its place in us. Dr. Larry Crabb has constructed a compelling narrative that shows how we have imprisoned ourselves by using the world's ways to 'get something from God,' instead of appropriating God's way to receive something from Him."
—CAL THOMAS, syndicated columnist and author

"Dr. Crabb not only gives us a clear mandate to celebrate Christian freedom, he also is our accompanist and exemplar on the Way of Freedom. You know he has walked that way with you. A remarkably personal message."
—JAMES M. HOUSTON, Chancellor Emeritus and professor of Spiritual Theology, Regent College, Vancouver, B.C.

"This book makes a very important statement about how to live the Christian life. It takes the Christian beyond the obstacles and disappointments and, above all, beyond the age-old enemy of self straight into the arms of grace. Once there, the pressure is off. A real worthwhile read."
—FRANK RETIEF, Presiding Bishop, Church of England in South Africa

"At last we have a book that confronts contemporary Christian culture with its increasing tendency to be taken up with blessings more than the Blesser. I doubt whether anything Larry has ever written, or may write in the future, will contribute more powerfully to the needs of modern-day Christians than The Pressure's Off."
—SELWYN HUGHES, director of the Center for World Revival and author of Every Day with Jesus devotional
Advertisement