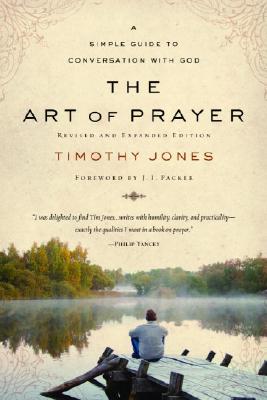 The Art of Prayer: A Simple Guide to Conversation with God (Paperback)
A Simple Guide to Conversation with God
Waterbrook Press, 9781578568499, 272pp.
Publication Date: May 17, 2005
Description
"I often shrink from books about prayer, because they usually produce in me feelings of inadequacy. I was delighted to find Tim Jones to be a sympathetic, not intimidating, guide. He writes with humility, clarity, and practicality-exactly the qualities I want in a book on prayer."
-Philip Yancey

Revised and Expanded Edition with Study Guide Included "Timothy Jones...guides us into a life of prayer not by cramming us with knowledge and technique, but by quietly returning us to simplicity of soul and the presence of God."
-Eugene Peterson
Something within us wants to grow closer to the God who loves to relate to us. But we often hesitate. Even though we have a desire to pray, questions nag us: Can I pray when I feel distant from God?
Is it okay to ask God for help in "little" things?
What do I do when I don't know what to say?
What sense can I make of seemingly unanswered prayer?
How do I keep growing closer to God? In The Art of Prayer, Timothy Jones honestly shares his own struggles with prayer and invites you to be honest-and hopeful-as well. Offering biblically wise, warmly instructive explorations of our questions, Jones considers how you can become fluent in the world's simplest language: talking with God. Includes a full-length inductive Bible study guide on prayer, ideal for small groups or individual readers. ..".wisely human, spiritually practical, and wonderfully interesting."
- the late Lewis Smedes, author of My God and I

..".luminous prose and...lucid insights."
-Publishers Weekly
About the Author
Timothy Jones leads a campus ministry at Middle Tennessee State University and is an associate pastor at St. Paul's Episcopal Church in Murfreesboro, Tennessee. He is the author of several noted books on the spiritual life, including Awake My Soul, A Place for God, Nurturing a Child's Soul, and the bestselling Celebration of Angels. With pollster George Gallup, Jr., he coauthored The Next American Spirituality. He lives in the Nashville area with his wife and children.
Praise For The Art of Prayer: A Simple Guide to Conversation with God…
Praise for
The Art of Prayer
"I cannot commend The Art of Prayer too highly. Here at last is a book on prayer that transcends traditions. Timothy Jones has given us a book that is deep, yet accessible; serious, yet with wonderful flashes of humor and insight. This is a book for spiritual pygmies who long to be giants–in short, a book for all of us."
–Lord Carey, the 103rd Archbishop of Canterbury

"I often shrink from books about prayer because they usually produce in me feelings of inadequacy. I was delighted to find Tim Jones to be a sympathetic, not intimidating, guide. He writes with humility, clarity, and practicality–exactly the qualities I want in a book on prayer."
–Philip Yancey, author of Soul Survivor

"[A] fine introduction to prayer as well as a deeply reflective meditation.… [This book] will appeal to a broad readership because of Jones's luminous prose and his lucid insights."
–Publishers Weekly"Prayer, the expression of our deepest and most essential selves, also names our most pervasive inadequacy. And so we need guides, men and women who return us to our true selves and encourage us to do what is most natural to us. Timothy Jones is a reassuring guide: He guides us into a life of prayer not by cramming us with knowledge and technique but by quietly returning us to simplicity of soul and the presence of God."
–Eugene Peterson, translator of The Message

"A wisely human, spiritually practical, and wonderfully interesting book about the most important project of my life: deeper friendship and more effective communication with the Maker of the Universe. If it proves half as helpful to others as it has already been to me, it will have been a splendid gift to us all."
–the late Lewis Smedes, author of Forgive and Forget

"Many Americans, surveys reveal, are eager to have an encounter with the living God, yet they too often feel sidetracked by concern over such questions as Is God really approachable? and What do I say when I pray? Tim Jones addresses such concerns with clarity and freshness, enabling readers to come closer to realizing their heartfelt desire to hear and serve God."
–George Gallup Jr.

"Jones provides reassurance and inspiration on a topic of importance to a growing number of readers."
–Library Journal
Advertisement