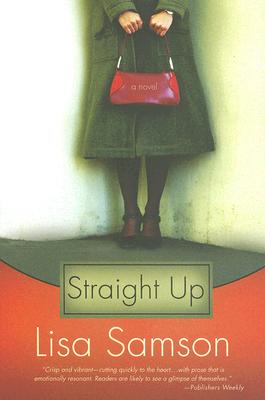 Straight Up (Paperback)
Waterbrook Press, 9781578568864, 285pp.
Publication Date: September 19, 2006
* Individual store prices may vary.
or
Not Currently Available for Direct Purchase
Description
They are living lives they were never meant to live.

Georgia Bishop, a could-be jazz great, has thrown away her life, her marriage, and her talent for her drinking habit. Her cousin, Fairly Godfrey, is living the good life in New York but wonders if deeper meaning exists beyond the superficial world in which she finds herself.

It takes a Congo refugee, a soul food chef, a persistent husband, and one desperate night on the brink of freedom for Georgia and Fairly to realize how far they have come from their God-given purposes. When they face the most difficult choices of their lives, only the power of grace can bring them to true healing.
About the Author
Lisa Samson resides in downtown Lexington, Kentucky where she lives and serves in community. She is the mother of three creative children and the wife of one creative man who puts up with her crazy ways while she puts up with his. Lisa is the winner of the Christy Award for contemporary fiction and has been called one of the best novelists in the inspirational market by "Publishers Weekly." Visit her at www.lisasamson.com."
Praise For Straight Up…
Praise for Straight Up

"Like an expert barrista, Lisa Samson take bits and pieces of her characters' lives and mixes them into a story that is fascinating and profound. Loss can lift you up…or destroy you. Straight Up shows both options and then lets you decide. Which will it be? This is one good book!"
–Roxanne Henke, author of After Anne, With Love, Libby, and other books in the Coming Home to Brewster series


"What if we chose differently in life? Straight Up is pure Lisa Samson–original, raw, and laced with grace. As always, Lisa's characters came to life in my imagination, becoming my friends. This book made me cry and also allowed me hope. What a treasure."
–Robin Lee Hatcher, bestselling author of A Carol for Christmas


"Lisa Samson's writing is an extravagant gift to her readers. I am eternally amazed at the benevolence that spills so generously from her pen. She is not only a compassionate writer, but a young poet with an old soul, a woman that uses her writing as a dance in which her readers can revel."
–Patricia Hickman, author of Earthly Vows and Whisper Town


In Straight Up, Lisa Samson draws us into the joys and consequences of this free-will thing called Choice. It is a story that is at once both tough and tender, with Samson exhibiting unusually keen insight into human nature–the longings of the heart, the failings of the flesh, the need for redemption. A powerful read, too important to miss.
–Ann Tatlock, awarding-winning author of Things We Once Held Dear


"Lisa Samson is one of my favorite authors. Her characterization is always brilliant, and Straight Up is no exception. Samson just keeps getting better and better."
–Colleen Coble, author of Fire Dancer

Advertisement