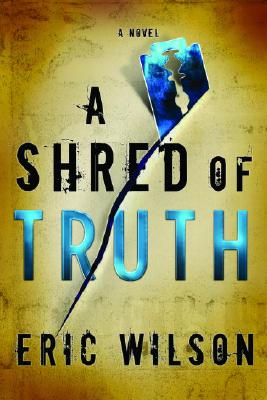 A Shred of Truth (Paperback)
Waterbrook Press, 9781578569120, 352pp.
Publication Date: July 17, 2007
* Individual store prices may vary.
or
Not Currently Available for Direct Purchase
Description
In "The Best of Evil, "Aramis Black uncovered family secrets and historical conspiracies, hoping that his own dark past had come to certain resolution. But now, in the dark of night, he finds his brother unconscious and tied to a statue in Nashville's Music Row with the initials AX carved into his back.
A shadow from his former life has reappeared, casting threats of violence and retribution. And soon the attacker is swinging his blade of self-righteous judgment directly at Aramis, calling upon him to face his sins. Can Aramis finally break free from the guilt of his old ways or will he succumb to the vengeance of an arrogant sociopath?
About the Author
Eric Wilson is the author of "Dark to Mortal Eyes, Expiration Date, "and the first book in the Aramis Black series, "The Best of Evil." He lives with his wife, Carolyn Rose, and their two daughters in Nashville, Tennessee.
Praise For A Shred of Truth…
Praise for A Shred of Truth

"Mesmerizing! In A Shred of Truth, Eric Wilson delivers a twisting tale of suspense, sorrow, and repentance that will grab you from the start and keep your mind occupied well past the turning of the last page. Aramis Black never looked so good. Warning: Reading this book may be hazardous to your sleep cycle!"
–Sharon Carter Rogers, critically-acclaimed author of Sinner and Two Graces


"Eric Wilson can flat-out write!"
–Creston Mapes, author of Nobody


"A Shred of Truth serves up another cup of addictive suspense from author Eric Wilson.  The adventures of Aramis Black read like successive shots of adrenaline, offering readers fresh takes in Christian suspense."
–Sibella Giorello, author of The Stones Cry Out


"Eric Wilson possesses a profound power of prose and dialogue that kept me riveted to the last, remarkable page. A great work from one of our most extraordinary writers of suspense."
–James Byron Huggins, author of A Wolf Story, The Reckoning, and Leviathan


"Wilson has done it again! A Shred of Truth is a highly textured, superbly crafted story that will resonate with readers long after the last page has been turned."
–Brandt Dodson, author of Original Sin, Seventy Times Seven and The Root of All Evil


"Eric Wilson continues to amaze me with every novel. A Shred of Truth grabs you at the first page and never lets go. From a hero who is flawed yet admirable to the demented evil out to destroy him, Wilson has given us his best work yet."
–Brian Reaves, author of Stolen Lives


"Now that I've had my second cup of coffee with my favorite bad-boy turned java-shop host, I'm hooked on Aramis Black. A Shred of Truth gives us a heaping spoonful of terrific writing, a double-dollop of historical intrigue, and a custom blend of danger, mystery, and family drama. Is there any question that Eric Wilson is one of the best suspense writers around? Not by me–I'm ordering another cup!"
–Kathryn Mackel, author of Vanished
 
Advertisement