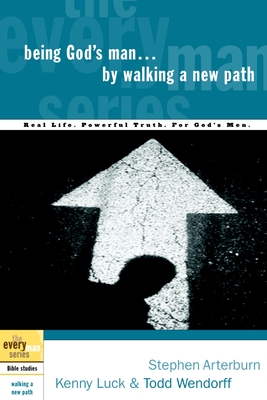 Being God's Man by Walking a New Path: Real Life. Powerful Truth. for God's Men (Paperback)
Real Life. Powerful Truth. for God's Men
Waterbrook Press, 9781578569199, 96pp.
Publication Date: November 16, 2004
Description
Take up a new calling. Walk a new path. And experience life's greatest adventure.
Will you discover your true reason for living, enter the battle, and become a new man in Christ? Or will you settle for less? To live more purposefully, to experience a full life, to become more, you will have to become someone else and walk a new path.
This kind of attitude is what the Navy Seals look for in a man: Rogue warriors. Unconventional. Committed. Guys who will do anything to win the battle and stay true to their new identities. Walking this new path requires men who won t shrink from the battle.
In spirit, the Apostle Paul was this kind of a rogue warrior for God's kingdom. He was tough and uncompromising and he held to a code that marked his life. He lived on purpose, not by accident. He surrendered his life and became a support for others. If you choose to become this kind of man made new, unwilling to compromise, then let this great apostle lead the way.
Special Features:
.Practical studies facilitate personal encounters with God and other men
.Questions encourage genuine reflection and help build godly convictions
. Real Life case studies show how the truths you discover have worked out in other men's lives
. Standing Strong section gives you the opportunity to form and express your action steps with God and your group.
About the Author
Stephen Arterburn is the founder and chairman of New Life Ministries and is the host of the nationally syndicated New Life Live! daily radio program. He is the founder of the Women of Faith conferences, a nationally known public speaker and best-selling author of over 60 books. He has degrees from Baylor University and The University of North Texas. He resides with his family in Laguna Beach, California.Kenny Luck is president and founder of Every Man Ministries and coauthor of the best-selling Every Man, God s Man. He is the Men s Pastor at Saddleback Church in Lake Forest, California. Todd Wendorff is a graduate of U.C. Berkeley and holds a Th.M. from Talbot School of Theology. Todd served as the pastor to men at Saddleback Church and is currently the associate pastor at Kings Harbor Church in Redondo Beach, California. He is an author of the Doing Life Together Bible Study Series."
Advertisement