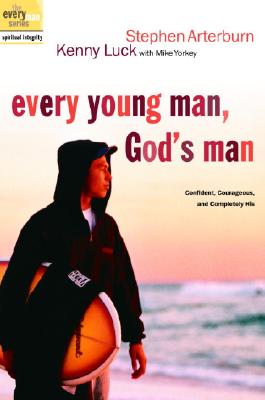 Every Young Man, God's Man: Confident, Courageous, and Completely His (Paperback)
Confident, Courageous, and Completely His
WaterBrook Press, 9781578569830, 240pp.
Publication Date: April 19, 2005
* Individual store prices may vary.
or
Not Currently Available for Direct Purchase
Description
Live life the way Jesus did. To the extreme.

You're probably asking yourself a lot of tough questions these days. Like:
• Why is my faith keeping me from the fun everybody else is having?
• Why do I think about sex so much?
• Why should I obey God when nobody else seems to--even grownups?
• Is doing this okay with God?
• What do I really believe about God?
• How far is too far?
• Why does God expect so much of me?

If you want some solid answers to questions like these, Every Young Man, God's Man will take you straight to the heart of your frustrations and fears. And give you the truth you need to hold on to–truth that will drive you forward and give you hope.

By learning to go to the dark and difficult places in your heart, and standing up in God's power in all the battles you face, you will find yourself full of spiritual confidence and courage. You'll see how faith makes sense in the light of who God is and how much He cares about you. And the bottom line: You'll discover that it doesn't get any better than living as God's man–confident, courageous, and completely His.

Get ready for some gut-punching honesty and real-life stories about how to be God's man. Right now.
About the Author
Stephen Arterburn is the founder and chairman of New Life Ministries and is the host of the nationally syndicated "New Life Live!" daily radio program. He is the founder of the Women of Faith conferences, a nationally known public speaker and best-selling author of over 60 books. He has degrees from Baylor University and The University of North Texas. He resides with his family in Laguna Beach, California.

Kenny Luck is president and founder of Every Man Ministries and coauthor of the best-selling "Every Man, God's Man." He is the Men's Pastor at Saddleback Church in Lake Forest, California.
Praise For Every Young Man, God's Man: Confident, Courageous, and Completely His…
Praise for Every Young Man, God's Man

"Every Young Man, God's Man pulls no punches in challenging young men to declare their loyalty to Jesus Christ early and not waver in a lifelong pursuit of His ways and plans. All important issues are explored with refreshing candor, from personal holiness to sexual purity to spiritual warfare and more. Every young man eager to make his life count will gain huge benefits from this book."
–Josh McDowell, author and speaker

"Every Young Man God's Man does more than just warn young men of the dangers that lurk in the shadows of adolescence. It gives them hope that they can overcome and conquer their fears. Every chapter is filled with the kind of practical, down-to-earth advice that will arm young men against the assaults of sexual temptation, peer pressure, and isolation….No overly simplistic solutions found here, just solid, scriptural principles that create Godly young men. My sons will read this book–very soon!"
–Ross Parsley, Associate Pastor, New Life Church

"Kenny Luck has a brave and raw style that grabs you by the throat and, at the same time, gently moves you to want to change. He is able to talk about the dark, secret, and tough places that most guys would prefer to keep secret. He says things that others only think of saying with the clear intent to help guys experience God's love and power for their lives."
–Doug Fields, Pastor to Students at Saddleback Church, author, speaker, President of Simply Youth Ministry
Advertisement