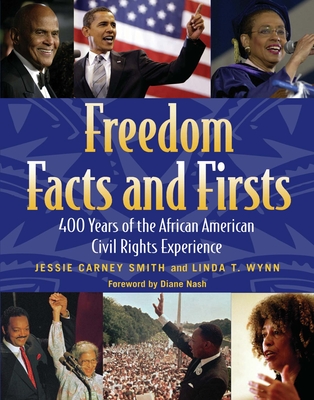 Freedom Facts and Firsts (Paperback)
400 Years of the African American Civil Rights Experience
Visible Ink Press, 9781578591923, 390pp.
Publication Date: January 1, 2009
* Individual store prices may vary.
Description
Spanning nearly 400 years from the early abolitionists to the present, this guide book profiles more than 400 people, places, and events that have shaped the history of the black struggle for freedom. Coverage includes information on such mainstay figures as Martin Luther King Jr., Malcolm X, and Rosa Parks, but also delves into how lesser known figures contributed to and shaped the history of civil rights. Learn how the Housewives' League of Detroit started a nationwide movement to support black businesses, helping many to survive the depression; or discover what effect sports journalist Samuel Harold Lacy had on Jackie Robinson's historic entrance into the major leagues. This comprehensive resource chronicles the breadth and passion of an entire people's quest for freedom.
About the Author
Jessie Carney Smith is a noted African American studies scholar and a professor of humanities at Fisk University. She is the author of "Black Firsts" and "Black Heroes".""""Linda T. Wynn is the assistant director for state programs at the Tennessee Historical Commission and a professor of history at Fisk University. They both live in Nashville, Tennessee.
Praise For Freedom Facts and Firsts: 400 Years of the African American Civil Rights Experience…
"Written in a vivid and accessible style, this encyclopedia is highly recommended for high school, public, and community college libraries, where it will serve students well. . . .  [U]nique effort that does equally well in libraries as it does in bookstores."  Library Journal
"An important addition to Black History Month booklists. From the early abolitionists to the presidential nomination of Barack Obama, the authors have gathered easy-to-read articles on the essential people, places, and events of the black struggle for freedom."  School Library Journal
"This authoritative work, with its brief biographies of many accomplished and famous African-Americans, is one that writers, researchers, and libraries will want to keep close at hand for its valuable information." 
Richmond Times-Dispatch
"This is a must-have reference."
St. Paul Pioneer Press
"Comprehensively catalogs the achievements of everybody from Hank Aaron to Bruce Yuille." 
Syracuse Post-Standard
"A valuable encyclopedic work covering the Black experience in the United States from 1619 . . . through the Civil Rights Movement and to the ascendancy of Barack Obama, the country's first African-American president."  Newark Star Ledger
"Hundreds of entries describe in detail the important people, dates, events, and places of the African American experience. This reference works is very beneficial to students completing research and useful for all ages."  VOYA
"This title is an inexpensive alternative to the more academic titles on black history that are currently on the market. It will be especially appreciated in school libraries, community college collections, and public libraries of all sizes."  American Reference Books Annual
or
Not Currently Available for Direct Purchase