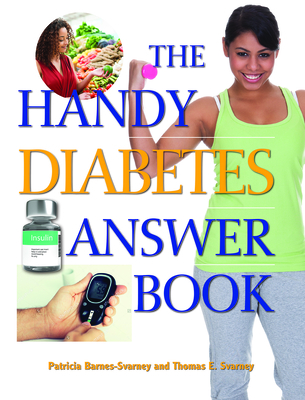 The Handy Diabetes Answer Book (Handy Answer Books) (Paperback)
Visible Ink Press, 9781578595976, 400pp.
Publication Date: August 1, 2017
* Individual store prices may vary.
Description
Whether young, old, type 1, type 2, gestational, newly-diagnosed, long-time sufferer, caretaker or loved one, millions of people are afflicted and affected by diabetes. The CDC estimates 9.3% of the population in the U.S. and Canada have diabetes, with millions more with prediabetes. From scientific explanations of the affects of diabetes on the human body to monitoring, maintaining, exercising and eating right,
The Handy Diabetes Answer Book
provides detailed information on the research and science on the disease as well as coping with the burden.
This useful resource shows how and why the disease affects the body, and provides glimpses of historical and contemporary figures with diabetes. It explains who is most at risk, and points to the differences throughout life stages. It looks at the science behind its affects on the sense, brain and the various systems of the human body. It demonstrates how to cope with--and live well--through food, exercise and life style choices.
The Handy Diabetes Answer Book is the go-to guide for diabetics, prediabetics, their loved-ones and care-takers. It answers questions in plain English on all aspects of the condition. It also introduces the scientists behind breakthrough advances in care. Easy to use and informative reference, brings the complexity of the illness into focus and provides practical assistance for managing the malady through the well-researched answers to nearly 950 common questions, such as ...
& bull; What were some early common treatments for patients with diabetes? & bull; What company was responsible for making the first commercial insulin? & bull; What percent of people have prediabetes in the United States? & bull; What are some ethnic, racial, or cultural groups that have more people with type 1 and type 2 diabetes? & bull; Has type 2 diabetes increased in teens and young adults? & bull; What are some other eating challenges that can affect an older person with diabetes? & bull; What are the early warning signs of type 1 diabetes? & bull; What is insulin shock? & bull; How can having pregestational diabetes affect a woman's unborn child? & bull; Did writer Ernest Hemingway suffer from hemochromatosis? & bull; Can secondhand smoke affect a person with diabetes? & bull; Why does diabetes cause blindness? & bull; Why is it important for a person with diabetes to be aware of tooth pain? & bull; Why is there a controversy over how much salt should be eaten daily? & bull; How do "energy drinks" affect a person's blood glucose levels? & bull; What are some tips for person with diabetes when they go shopping for food? & bull; What food additives should a person with diabetes be aware of consuming? & bull; What should a person with diabetes look for on a restaurant menu? & bull; Why is health care so costly for treating diabetes? & bull; Will type 1 diabetes ever go away? & bull; What recent study tried to find a way to reverse type 2 diabetes? & bull; What doll company is helping children cope with type 1 diabetes? & bull; What are some websites that offer a free diabetes risk assessment?
About the Author
Patricia Barnes-Svarney is a science and science fiction writer. Over the past few decades, she has written or coauthored more than 35 books, including Visible Ink Press' The Handy Anatomy Answer Book, The Handy Biology Answer Book, and The Handy Nutrition Answer Book. She is the author of When the Earth Moves: Rogue Earthquakes, Tremors, and Aftershocks, and she was also the editor/author of the award-winning New York Public Library Science Desk Reference.