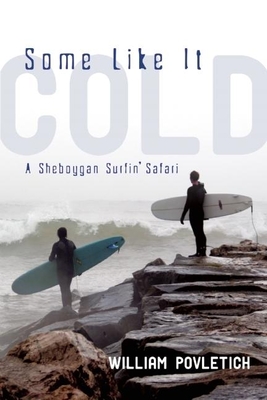 Some Like It Cold: A Sheboygan Surfin' Safari (Paperback)
A Sheboygan Surfin' Safari
Clerisy Press, 9781578603473, 196pp.
Publication Date: June 1, 2010
* Individual store prices may vary.
or
Not Currently Available for Direct Purchase
Description
For the past six decades, twin brothers Lee and Larry Williams have been surfing the gnarliest waves despite living nearly 2,000 miles away from any ocean. To overcome the obstacles of being born and raised in Sheboygan, Wisconsin, they brought their dreams and long boards to the shores of Lake Michigan. Often braving 35-degree waters and wind-chill temperatures hovering below zero, the Williams brothers quickly realized the biggest adversaries of the "Malibu of the Midwest" weren't the lacking waves, but rather hypothermia and frostbite. Customizing their wetsuits to allow them to last nearly three hours in even the iciest of waters, Lee and Larry helped revolutionize a surf culture where one had never been before. As hosts of the Dairyland Surf Classic, they became international surfing celebrities and attracted hundreds of surfers from around the globe eager to partake in one of America's best beach parties. Some Like it Cold is the fascinating story of two brothers whose lifelong journey to ride the ultimate wave seemingly brought the rest of the surfing world to their hometown.
Praise For Some Like It Cold: A Sheboygan Surfin' Safari…
"[Povletich] has obviously done his homework here, taking the time to document a couple of beautiful people with all of their quirks, backfires, joys and heartbreaks. This is an interesting, off-the-beaten path tale of a rugged coastline serving her brethren—and doing it quite well, thank you."
—Nathaniel Riverhorse Nakadate, Eastern Surf Magazine

Cool story, man! A small Wisconsin city on the shore of Lake Michigan is known the world over for fresh-water surfing. Some Like It Cold tells how that happened, taking you down to Sheboygan's beaches and catching a vibe that emerged in the '60s and remains strong today. I grew up in Sheboygan, not far from the beach, and Bill Povletich's book takes me right back to that time."
—Jeff Ash, Green Bay Press-Gazette

Some Like It Cold is a great adventure highlighting the good time years of surfing on the Great Lakes of North America. Brothers Williams are true surfers who will to do anything and suffer through all the bad stuff, surfing in really cold water and weather to feel the feeling only a surfer knows. A great read for anybody interested in the lesser known history of surfing."
—John Lyman, Director, The Huntington Beach International Surfing Museum

Who would have ever thought that there was surfing in Wisconsin? Moreover, what drives someone to brave Lake Michigan's icy waters for the mere sport of it? In Some Like It Cold, William Povletich weaves the tapestry of a loving, yet unique relationship of two brothers, Lee and Larry Williams, and explores the fascinating culture they have created. What was most surprising to me is how much heart this story has. How do a pair of "Regular Joes" become legends? Because once again, Povletich's unique storytelling prose has struck gold!"
—Doug Russell, Sports Director, 1250 WSSP Milwaukee's Sportsradio

"Bill Povletich's Some Like it Cold would be fascinating if it was just about surfing in Wisconsin, of all places, but it's so much more than that. It's a well-told story of passion, daring, tragedy, triumph and love a wacky love for the freshwater surf of Sheboygan and the unconditional love shared by the Williams brothers."
—Jerry Poling, author of A Summer Up North: Henry Aaron and the Legend of Eau Claire Baseball

Surfing in Wisconsin? You bet! Some Like It Cold is a story that screams to be told. The ongoing saga of brothers Larry and Lee Williams documents a near five decades deep impassioned love affair with surfing; all this amidst the uncharted wave fields of an inland ocean. Larry and Lee could have easily pulled up stakes along the way and migrated to the fertile surfing grounds of Southern California & beyond.... but they didn't. These guys are on to something and they know it in their hearts. Follow the Williams brothers and their surfing sub-culture coterie through episodes of life's conquests and tragedies played out in America's Heartland.
—Mark Fragale, Curator, Honolulu Surfing Museum
Advertisement