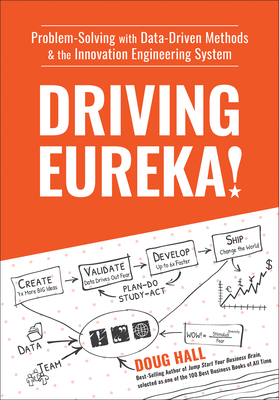 Driving Eureka! (Hardcover)
Problem-Solving with Data-Driven Methods & the Innovation Engineering System
Clerisy Press, 9781578605811, 240pp.
Publication Date: November 13, 2018
* Individual store prices may vary.
Description
Transform the art of innovation into a reliable system
System Driven Innovation enables you and everyone on your team to use innovation to work smarter, faster, and more creatively. It transforms innovation from a random act to a reliable science. This new mindset ignites confidence in the future. It enables the creation of bigger and bolder ideas--and turns them into reality faster, smarter, and more successfully. With this new mindset, innovation by everyone, everywhere, every day becomes the norm. The rapidly changing world becomes a tremendous opportunity to achieve greatness.
Innovation Engineering defines innovation in two words: Meaningfully Unique. When a product, service, or job candidate is Meaningfully Unique customers are willing to pay more money for it. This links to the two simple truths in today's marketplace:
If you're Meaningfully Unique life is great
If you're NOT Meaningfully Unique you'd better be cheap.
Innovation Engineering is a new field of academic study and leadership science. It teaches how to apply the science of system thinking to strategy, innovation, and cooperation. Research finds that it helps to increase innovation speed (up to 6x) and decrease risk (by 30 to 80%). Innovation Engineering accelerates the creation and development of more profitable products and services. However, the bigger benefit may well lie in its ability to transform organizational cultures by enabling everyone to work smarter every day.
What makes Innovation Engineering unique is that it's grounded in data, backed by academic theory, and validated in real-world practice. Collectively, it's the number one documented innovation system on earth. Over 35,000 people have been educated in Innovation Engineering classes, and more than $15 billion in innovations are in active development.
In his book Driving Eureka , best-selling business author Doug Hall presents the System Driven Innovation scientific method for enabling innovation by everyone, everywhere, every day. It's the essential resource you need to enable yourself--and your team--to innovate, succeed, and do amazing things that matter, on a daily basis.
About the Author
Doug Hall is an inventor, researcher, and author. He's a chemical engineer by education who rose to the rank of Master Marketing Inventor at Procter & Gamble. At P&G, using the principles that would become Innovation Engineering, his team of three invented and shipped a record nine innovations in just twelve months. He's been named one of America's top innovation experts by A&E Top 10, Inc. Magazine, The Wall Street Journal, DATELINE NBC, CNBC, CIO Magazine, and the CBC. In 1986 he founded what is now known as the Eureka! Ranch. The Ranch is a team of inventors, educators, and software programmers who enable the Innovation Engineering movement. The mission of Doug and the Eureka! Ranch team is to change the world through systems that enable innovation by everyone, everywhere, every day, resulting in increased innovation speed (up to 6x) and decreased risk (30 to 80%). Innovation Engineering is a new field of academic study and leadership science focused on System Driven Innovation. It applies Dr. Deming's System of Profound Knowledge, made famous in manufacturing during the 1980s, to strategy, innovation, and how we work together. It's taught as an undergraduate minor and graduate certificate on college campuses and through off-campus executive education programs that include Innovation Engineering Black Belt (mastery), Silver Belt (leadership), and Blue Belt (innovators). Doug is also the founder and CEO of Brain Brew Scientific Spirits. It's a craft spirits company that invents Scientific Spirits. Blending craftsmanship with science, they bring to market double-gold-medal-winning whiskey and other spirits. Doug is the best-selling author of seven books. He has starred in two network television series (ABC American Inventor and Backyard Inventor) and a nationally syndicated radio program (Brain Brew Radio). Doug authored and performed a one-man play, North Pole Tenderfoot, on his adventure recreating Admiral Peary's last dash to the North Pole. For his pioneering work on System Driven Innovation, he was awarded an Honorary Doctorate in Engineering from the University of Maine and a Doctor of Laws from the University of Prince Edward Island. Doug is a citizen of Canada and the USA. He is married to his high school sweetheart, and they have three children. They divide their time between Cincinnati, Ohio, USA, and Springbrook, Prince Edward Island, Canada. He is passionate about sailing, cooking pizza and paella, cross-country skiing, and bagpiping.