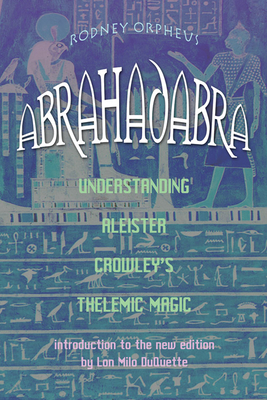 Abrahadabra (Paperback)
Understanding Aleister Crowley's Thelemic Magic
Weiser Books, 9781578633265, 208pp.
Publication Date: July 1, 2005
* Individual store prices may vary.
Description
"Magick is a subtle and curious thing and often works in ways you do not expect and at times you do not expect but it always works. Every magical act brings a result, as you are about to learn." Rodney Orpheus, from the Introduction

"Abrahadabra is about the practice of the magick of Thelema a system of physical, mental, and spiritual training and discipline based on two fundamental principles: "Do what thou wilt shall be the whole of the Law" and "Love is the law, love under will." Lon Milo DuQuette
About the Author

Rodney Orpheus is a practicing magician, an established musician, and a member of the band The Cassandra Complex, one of the most important electroindustrial bands of the past decade. He lives in London and travels extensively.

Lon Milo DuQuette
is a bestselling author and lecturer on such topics as magick, tarot, and the Western Mystery Traditions. He is currently U.S. Deputy Grand Master of Ordo Templi Orientis and is on the faculty of the Omega Institute in Rhinebeck, N.Y. and the Maybe Logic Academy. Visit him at www.londuquette.com.
or
Not Currently Available for Direct Purchase