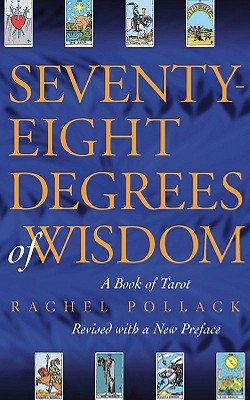 Seventy-Eight Degrees of Wisdom
A Book of Tarot
Paperback

* Individual store prices may vary.
Other Editions of This Title:
Paperback (3/1/2019)
Hardcover (11/1/2020)
Paperback (11/17/1997)
Description
A top tarotist's secrets to personal growth, one card at a time. The two volumes of SeventyEight Degrees of Wisdom have inspired a whole generation of tarot students. It has often been described by readers, booksellers, and teachers as the "Bible of tarot readers." It is also often cited as one of the landmark books in modern tarot, and it helped to launch the "Tarot Renaissance" of the 1980s. The two textsone for The Major Arcana and one for The Minor Arcanaappear together in this volume, which is a reissue of the 1998 edition first published by Thorsons. SeventyEight Degrees of Wisdom draws on mythology and esoteric traditions and delves deeply into the symbolism and ideas of each card. It also gives the cards a modern psychological slant based on the pictures rather than a system of occult symbolism. This endlessly useful reference tool provides a concise history of tarot, introduces common spreads, and is a clear and readable book for both the beginning and advanced tarot student.
Weiser Books, 9781578634088, 368pp.
Publication Date: September 30, 2009
About the Author

Rachel Pollack is considered one of the world's foremost authorities on the modern interpretation of the tarot. She is a member of the American Tarot Association, the International Tarot Society, and the Tarot Guild of Australia, and has taught at the famed Omega Institute for the past 15 years. She is an award-winning fiction writer and has also written 12 books on the tarot. She lives in New York.

or
Not Currently Available for Direct Purchase