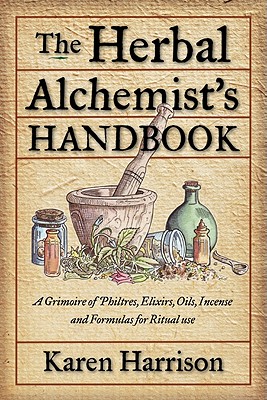 The Herbal Alchemist's Handbook (Paperback)
A Grimoire of Philtres, Elixirs, Oils, Incense, and Formulas for Ritual Use
Weiser Books, 9781578634910, 256pp.
Publication Date: June 1, 2011
Other Editions of This Title:
Paperback (4/1/2020)
* Individual store prices may vary.
Description
Herbs have been used for medicine, magic, and ritual for centuries. The ancient arts of Herbal Alchemy and Herbal Magick combine an understanding of the healing and energizing effects of herbs (roots, leaves, flowers, resins and essential oils) with an understanding of the cycles of the natural worldthe astrological movement of the stars and planets, and the cycles of the earth's seasons.
In this easytouse compendium of herbs and their energy associations, master herbalist and magick practitioner Karen Harrison offers formulas anyone can use to obtain courage, creativity, and lasting health, to increase prosperity and to enhance psychic and spiritual powers. Harrison shows how to select herbs based on their astrological associations as well as their medicinal properties. with a materia magica of more than 150 herbs and a multitude of recipes, readers will learn how to blend incense, ceremonial oils, bath salts, herbal amulets, fluid condensers, and herbal philtres/ and how to use them in meditation, ritual, or energy work.
Discover the best herbs to improve any area of your life, based on their planetary energies:

Health and Success. Sun herbs: St. John's Wort, Chamomile, Calendula
Meditation and Dreamwork. Moon herbs: jasmine, sandalwood, myrrh
Motivation and Energy at Work. Herbs of Mars: Safflower, red sandalwood, ginger, and honeysuckle
Prosperity. The Herbs of Jupiter: Carnation, Cedar, Oakmoss and Pine.
Protection and Stability. The Herbs of Saturn: Hyssop, Garlic, Coriander, Patchouli or Chaparral.
About the Author

Karen Harrison has been involved with magick, the psychic arts, and occultism since early childhood. She earned a Master of Herbology from the Emerson College of Herbology in Montreal, and is the proprietress of Moon Magick Alchemical Apothecary. She and her husband also own Isis Books, Gifts and Healing Oasis in Denver, Colorado (www.isisbooks.com), the largest and most complete brick and mortar store in the U.S. specializing in world spirituality, magick and herbs;essential oils.

Praise For The Herbal Alchemist's Handbook: A Grimoire of Philtres, Elixirs, Oils, Incense, and Formulas for Ritual Use…
"Powerful, practical and deliciously magickal! I love The Herbal Alchemists Handbook! Not only does it have excellent recipes, but it tells you the how and why behind the principles of formulation rooted in tradition but not afraid to add new, practical and firsthand knowledge. In particular, Karen takes a tough topic, formulation with your numerology or astrology and explains the process in clear terms and makes it fun as well as informative." --Christopher Penczak, author of The Temple of Witchcraft series and The Plant Spirit Familiar

"A thorough and remarkably usable handbook." --Lon Milo DuQuette, author of Enochian Vision Magick

"Karen Harrison's got the goods! I met Karen in the flesh in 1987, although my company had been selling her Moon Magic line of oils and incenses for years. I thought I knew something about herbs--this was before my first real conversation with her! I am delighted that she has finally distilled her years of herbal practice, Qabalistic study, astrological knowledge and magical expertise into a book that will benefit any student of the occult arts, from novice to adept. Well done, Karen!" --Judith HawkinsTillirson, author of The Weiser Concise Guide to Herbal Magick

"Being a well trained and experienced herbologist, the author has created a modernday herbal grimoire by presenting valuable material in an easy to follow format. She gathers ancient wisdom and illustrates its use in a intelligible style convenient for the modern practitioner. Delightful reading for the herbalist, witch and astrologer alike." --Theitic, editor/publisher of The Witches' Almanac

"Karen Harrison's book is a boon to herbalists, alchemists, witches and magicians alike. Based on the philosophy and teachings of Paracelsus, it details--in every sense of the word--the use of herbs; examining the spirit or chi of the plants, and suggests how that special individual power might be used both mundanely and magically. This is an eminently practical book. It is fully annotated and offers recipes for the blending of incenses, for ceremonial oils, philtres and more. For me, this book will have a permanent place in my collection. It is a joy to read; a wealth of knowledge." --Raymond Buckland, author of Buckland's Book of Gypsy Magic