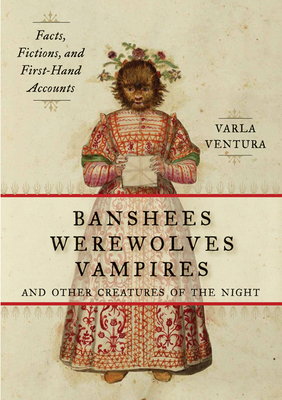 Banshees, Werewolves, Vampires, and Other Creatures of the Night (Paperback)
Facts, Fictions, and First-Hand Accounts
Weiser Books, 9781578635474, 256pp.
Publication Date: October 1, 2013
* Individual store prices may vary.
Description
The lusty vampire, the sympathetic werewolf, the tragic banshee are just a few of the dark and frightening creatures you'll discover in Banshees, Werewolves, Vampires, and Other Creatures of the Night. Huffington Post Weird News columnist and author Varla Ventura takes readers on a wild ride through the shadowy hills of rural Ireland, the dark German forests, and along abandoned farms and country roads across the world to discover some of the most frightening and freaktacular tales, tidbits, and encounters with all those beasties that go bump in the night.

Along with classic pieces from Bram Stoker, Elliot O'Donnell, Sabine BaringGould, William Butler Yeats and many others, Ventura includes:
• Famous vampires you may not know
• The identity of the author of the first English vampire novel (and his relationship to Mary Shelley's Frankenstein)
• Excerpts from the first psychic vampire novel ever written
• Stories of 19th century werewolf hunters
• Why banshees are the most feared of supernatural creatures
About the Author
Varla Ventura, author of Sheroes, Beyond Bizarre, and The Book of the Bizarre, and is a lover of all things odd and unusual and truly freaky. Her favorite holiday is Halloween, which she celebrates almost every day. She lives in the attic of an old Victorian in San Francisco.
Praise For Banshees, Werewolves, Vampires, and Other Creatures of the Night: Facts, Fictions, and First-Hand Accounts…
"If you're looking for the perfect book to spend the Witching Season with, one to sink your teeth into as you burrow under the covers to escape the cold and dread of October's grim, then I have just the book for you. Banshees, Werewolves, Vampires, and Other Creatures of the Night: Facts, Fictions, and FirstHand Accounts by Varla Ventura is a delightful little tome, filled with delicious illustrations and wondrous tales, both real and imagined. I loved this book. I think you will too." -The Occult Detective, Bob Freeman