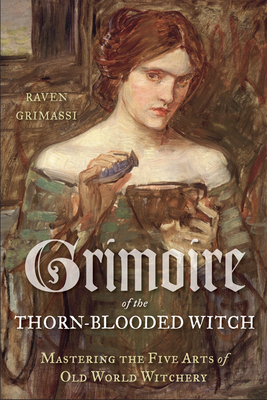 Grimoire of the Thorn-Blooded Witch (Paperback)
Mastering the Five Arts of Old World Witchery
Weiser Books, 9781578635504, 288pp.
Publication Date: August 1, 2014
* Individual store prices may vary.
Description
Learn to Stand with Feet Rooted in Shadow and Hands Stretched to the Stars

"In your hands is Raven Grimassi's most personal and powerful work to date. In it he shares profound Craft teachings that will transform your relationship with magick, and your work as a Witch. I wish I'd had access to this treasure earlier on my path."--Christopher Penczak, cofounder of the Temple of Witchcraft and author of the Plant Spirit Familiar

For the first time in more than a decade, Grimassi introduces readers to a new system of witchcraft, one that draws upon the old ways and the old days. Rich with spells, rituals, and detailed illustrations of plant spirits, Grimassi dares readers to take the path that leads deep into the darkened woods--to traverse upon the Thorned Path.

Meet the entities that dwell within the organic memory of the earth, the devas, the deities, the magical life force that lies within the wooded glen. Learn to work with these spirits, and use their wisdom to transform your life and your practice.
About the Author
Raven Grimassi is a neo-pagan scholar and award-winning author of numerous books on witchcraft, Wicca, and neo-paganism. He is a member of the American Folklore Society and is cofounder and codirector of the Crossroads Fellowship, a modern Mystery School tradition.
Praise For Grimoire of the Thorn-Blooded Witch: Mastering the Five Arts of Old World Witchery…
"Undoubtedly the most exciting and important book of the decade!" --Dorothy Morrison, author of Utterly Wicked and The Craft

"Many books talk about the relationship of Witches to natural magic. This book takes you into the very heart of it." --Christian Day, author of The Witches' Book of the Dead

"Truly a work of genius." --Theitic, executive editor of The Witches' Almanac

"The underworld powers of magical alchemy await within these pages!" --Orion Foxwood, author of The Candle and the Crossroads