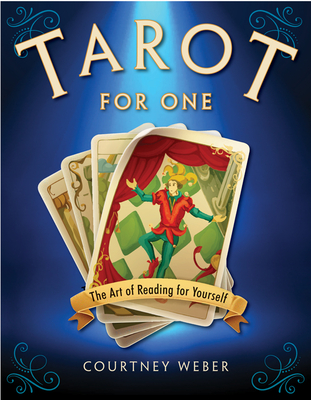 Tarot for One
The Art of Reading for Yourself
Paperback

* Individual store prices may vary.
Description
Courtney Weber has been teaching Tarot and speaking at Tarot symposia around the country for a decade. In response to the numerous requests she has received over the years, Weber created Tarot for One, a personal workbook and resource guide designed to help form interpretations directly applicable to self-readings.
In Weber's clean, clear style, this book explores the Fool, the Major Arcana, the Court Cards, Cups, Wands, Swords, and Pentacles, as well as what she calls the tough cards, reversals, practice spreads, and next steps. She includes common associations as well as extensive exercises to unlock readers' own interpretations for connecting personal journeys with the archetypical Tarot. Readers will learn to let the voice of the Tarot come through without overlaying too much of their own "stuff" during a reading.
Tarot for One includes dozens of original Tarot spreads and layouts, which have been repeatedly proven both fun and effective in Weber's classes and workshops. It also contains tips on finding a deck, honing a Tarot practice, and avoiding common self-reading pitfalls. This is the essential guide for your personal journey with the Tarot.
Praise For Tarot for One: The Art of Reading for Yourself…
"Courtney Weber is one of a new generation of Tarot authors who are making the cards fresh and relevant to today's world. Filled with real life examples, this book is almost like being in class with Courtney or like joining her in a fun and insightful conversation. She answers questions about the reading process as soon as (or just before) they arise in my mind. It's an updated Tarot for yourself packed with exciting new ideas and perspectives that I'll certainly be using." --Mary K. Greer, author of Tarot for Your Self and Understanding the Tarot Court
— Reviews

"Most tarot readers agree: reading tarot cards for others is a snap compared to reading for yourself. Remaining objective is hard, especially when you are emotionally invested in the outcome. Thanks to Courtney Weber's Tarot for One: The Art of Reading for Yourself, you're not going to struggle any longer! With smart exercises, clever spreads, easy-to-understand interpretations and tons of examples, Weber provides the perfect framework for getting out of your own way and uncovering clear, unbiased answers. If you love tarot and have always wanted to be able to read your own cards, this invaluable guide belongs on your shelf." --Theresa Reed, author of The Tarot Coloring Book
— Reviews

"Filled with practical tips, real life examples, and plenty of creative activities, Tarot for One will help you become your own best reader…as well as make you a better reader in general. Weber's firm yet gentle touch will guide you to find truth in the cards and within yourself." --Barbara Moore, author of Your Tarot Your Way, Tarot Spreads, and the Steampunk Tarot
— Reviews
Weiser Books, 9781578635955, 256pp.
Publication Date: November 1, 2016
About the Author
Courtney Weber is a Wiccan priestess, writer, tarot advisor, metaphysical teacher, and social activist living in Oregon. She is the author of Brigid: History, Mystery, and Magick of the Celtic Goddess and Tarot for One: The Art of Reading for Yourself. Courtney is also the producer and designer of Tarot of the Boroughs. Courtney leads workshops throughout the US. Visit her at thecocowitch.com.