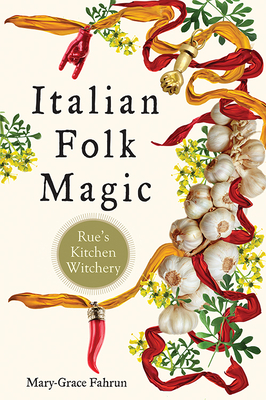 Italian Folk Magic (Paperback)
Rue's Kitchen Witchery
Weiser Books, 9781578636181, 240pp.
Publication Date: May 1, 2018
* Individual store prices may vary.
Description
Italian Folk Magic is a fascinating journey through the magical, folkloric, and healing traditions of Italy with an emphasis on the practical. The reader learns uniquely Italian methods of magical protection and divination and spells for love, sex, control, and revenge.
The book contains magical and religious rituals and prayers and explores divination techniques, crafting, blessing rituals, witchcraft, and, of course, the evil eye, known as malocchio in Italian--the author explains what it is, where it comes from, and, crucially, how to get rid of it.
This book can help Italians regain their magical heritage, but Italian folk magic is a beautiful, powerful, and effective magical tradition that is accessible to anyone who wants to learn it.
About the Author

Mary-Grace Fahrun was born in Bridgeport, Connecticut, to Italian immigrant parents and grew up in the Italian neighborhoods of Montreal and Connecticut. She describes herself as "an avid keeper of customs, traditions, and secrets" and is an authority on Italian folk magic and folk healing traditions. Visit her at www.rueskitchen.com.

Praise For Italian Folk Magic: Rue's Kitchen Witchery…
"I seriously love Mary-Grace Fahrun's
Italian Folk Magic
. It was giving me so much witchy wisdom I couldn't put the book down. Magic is everywhere." --
Hilarie Burton
, actress
— Hilarie Burton
"Mary-Grace Fahrun's
Italian Folk Magic
is a tribute to Italian mothers and grandmothers who kept their loved ones well fed and in good health with recipes and remedies concocted from their magical kitchens." --
Agata De Santis
, director of the documentary film Mal'occhio, founder of italocanadese.com
— Agata De Santis
"Mary-Grace Fahrun's Italian Folk Magic is an intimate journey into the heart of Italian folk magical practices as they are lived every day. Having grown up in an extended Italian family in North America and Italy, the author presents us with the stories, characters, saints, charms, and prayers that form the core of folk religion, setting them in context in an authentic, down-to-earth, and humorous voice. A delight to read!" --Sabina Magliocco, Professor of Anthropology, University of British Columbia
— Sabina Magliocco
"Whether you are of Italian ancestry or not,
Italian Folk Magic
is a great practical book full of history, culture, recipes, remedies, insight, magic, and more which is sure to effect and shape your perspective on witchcraft and your everyday life. Rue enthusiastically invigorates a waning layer of folk tradition with a burst of momentum for a burgeoning generation of folk magic practitioners." --
Chris Orapello
, artist, author, and co-host of
Down at the Crossroads
— Chris Orapello
"There has been little written on Italian folk magic throughout the years, possibly because many who perform folk magic do not think of what they are doing as magic. Mary-Grace Fahrun's book beautifully illustrates how magic never died and has continued to be practiced by European peoples. It shows that instead of magic being a fantasy laying outside of the mundane world, it was interfused with the everyday, enchanting every aspect of life with its great mystery. Folk magic is re-enchanting the world again, through Italian proverbs and recipes in this book, intimately intertwined with the culture and families of Italian descent. This is a beautiful thing to see in the written word." --
Marcus R. McCoy
, co-founder of the Viridis Genii symposium
— Marcus R. McCoy
"
Italian Folk Magic
is a charming, honest, and practical insight into an area of witchcraft that's often been overwrought with unnecessary outside influences. If you gather at the hearth of the Italian household, you will find a beautiful practice that doesn't require the dressing of ceremonial magic or recreated rites. Through the author's family tales, I was transported back to my own childhood memories of my Italian family in South Philadelphia. While magic traditions will definitely differ from family to family, region to region, there are underlying threads that are strikingly familiar that will speak to every reader. Through stories of recipes, superstitions, saints, and more, Mary-Grace serves up a delightful dish of a book that speaks to the heart of Italian witchcraft practices. Truly inspiring and a wonderful read!" --
Laura Tempest Zakroff
, author of
Sigil Witchery: A Witch's Guide to Crafting Magick Symbols
and
The Witch's Cauldron: The Craft, Lore and Magick of Ritual Vessels
— Laura Tempest Zakroff
"This is an extraordinary book, a divine gift from Italian ancestors full of ordinary ways to live an enchanted life. In revealing 'folk magic' practiced and passed down through generations, Mary-Grace tells favorite family stories, opening the door for readers to enter the magical world in which she lives, wherein we discover our own. My Polish soul fell in love with these Italian sisters and the wisdom they reveal and will do so evermore as I make their magic. In any collection of book on magic, Italian Folk Magic belongs on the top shelf." –Karol Jackowski, author of Sister Karol's Book of Spells and Blessings
— Karol Jackowski
"In this illuminating guide to Italian folklore, Fahrun, a nurse, Reiki master, and lifelong collector of Italian family recipes, shares her zeal for preserving Italian heritage. Through intimate relationships with her aunts and grandmother, Fahrun began learning from an early age the essence of Italian folklore and magic, and the traditions that stemmed from those customs. The kitchen, in particular, became a training ground for Fahrun to learn which ingredients and foods were purported to heal certain ailments. She shares knowledge passed down over generations in clear language. For example, minestra di verdure (an Italian vegetable soup) is prescribed as "medicine for intestinal problems" and for skin infections she recommends rubbing the sensitive area with an ointment that is "one part garlic paste and two parts lard." Fahrun also weighs in on the importance of dispelling malevolent spirits, such as malocchio (the evil eye), and suggests potential remedies, including the recitation of charms. Fahrun also briefly touches on the significance of amulets (items that repel bad luck and harm) and talismans (items that attract good luck) to Italian witchcraft. This fun book will be a great resource for readers looking to try out simple Italian recipes or learn about Italian folklore." --
Publishers Weekly
, March 2018