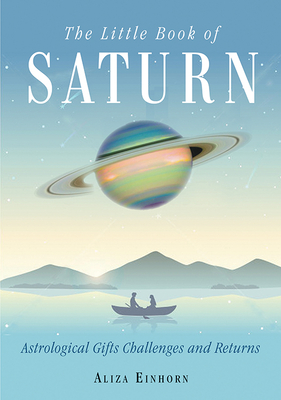 Little Book of Saturn (Paperback)
Astrological Gifts, Challenges, and Returns
Weiser Books, 9781578636280, 256pp.
Publication Date: June 1, 2018
* Individual store prices may vary.
Description
The Little Book of Saturn, a smart, friendly introduction to the astrological Saturn, is a book for curious readers who know there is more to astrology than their sun signs. Saturn has traditionally been considered the planet of challenges, but the life lessons that this stern planet brings are necessary for personal growth.
This book is suitable for beginners and experts alike. It discusses the influence of Saturn on the natal horoscope, focusing on Saturn in its various places in the birth chart and exploring the various transits, especially the return(s), which brings with it a period of transition that is often feared, but Aliza Einhorn shows you how to understand and navigate them with confidence.
About the Author

Aliza Einhorn, astrologer, tarot card reader, poet, and playwright, holds an MFA from the Iowa Writers' Workshop. She blogs at her website, "MoonPluto Astrology," and does readings (astrology and tarot together) professionally. She also teaches metaphysical classes online and runs chat rooms for the metaphysically minded. A former New Yorker, Einhorn now resides in Florida. Visit her at www.moonplutoastrology.com.

Praise For Little Book of Saturn: Astrological Gifts, Challenges, and Returns…
"As a good Capricorn, I have always had a great affinity with Saturn, my ruling planet. Its existence has always given me much curiosity and at the same time a lot of inner peace. Saturn is among the most majestic creatures of the firmament, dressed in its golden tones and sheltered behind a series of perfect rings, made literally from cosmic rocks and stardust. How could one not be curious about it? Finally, someone has taken up the task of recording and supplementing the scarce astrological information previously available about Saturn and delivered it properly broken down and organized in a way that is easy to understand and apply day by day. Finally, Aliza Einhorn's The Little Book of Saturn offers the substantial information I have long sought.
Aliza has given herself the task of creating this incredible book full of effective, comprehensive, and interesting information based on the astrological spirit of Saturn. This is a more than adequate manual for seekers of stars. From magicians to astrologers and from alchemists to modern sorcerers, everyone should have The Little Book of Saturn as an integral part of their collection. It will teach you to understand the different functions of Saturn in your life, in your daily routine, and even the influence it exerts on your zodiac sign. On behalf of all the future readers of this wonderful book, thank you Aliza for this incredible work." -Elhoim Leafar, author of The Magical Art of Crafting Charm Bags
"Aliza Einhorn's very direct and lively way of writing about subjects that often seem overly technical to non-astrologers like myself makes
The Little Book of Saturn
both informative and enjoyable. Anyone who might know just enough astrology to be scared by Saturn's influence, or anxious about the (sometimes dreaded) Saturn return, will find this book a helpful friend." -
Rachel Pollack
, author of
Seventy-Eight Degrees of Wisdom
"Saturn is a harsh teacher, but it is the kind of teacher that, if you can pass its lessons, you come out a stronger, more realized, and autonomous person. If you want the keys to understanding this challenging teacher,
The Little Book of of Saturn
is the guide you have been looking for to deepen your understanding of self and the eternal quest." --
Adam Sartwell
, co-founder of the Temple of Witchcraft and award-winning author of
Twenty-One Days of Reiki
and
The Blessing Cord
"For those looking to deepen their knowledge of astrology, I highly recommend Aliza Einhorn's
The Little Book of Saturn
. This may be a little book, but it's big on knowledge! A treat and delight for both seasoned astrologers and those looking to deepen their understanding of the practice, Einhorn makes astrology accessible, though-provoking, and fun. Einhorn explains the basics clearly and succinctly, providing an easy entry point into astrology, all while not speaking down to more advanced readers! Einhorn has a knack for making difficult concepts easy to understand. I'd give this book both to beginners and to friends who have been casting charts for decades!" --
Jason Mankey
, author of
The Witch's Book of Shadows
and
The Witch's Athame