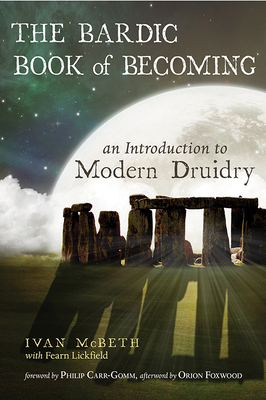 The Bardic Book of Becoming (Paperback)
An Introduction to Modern Druidry
Weiser Books, 9781578636341, 272pp.
Publication Date: April 1, 2018
* Individual store prices may vary.
Description
The Bardic Book of Becoming is a warm, user-friendly, eclectic introduction to modern Druidry that invites you to take the first steps into the realms of magic and mystery.
In this book you will be introduced to the various techniques and practices of a Druid in training. Written by Ivan McBeth, the cofounder of Vermont's Green Mountain School of Druidry, the book incorporates lessons, visualizations, rituals, and magical stories. Many different activities and exercises are included that provide the reader with hands-on learning. Ivan also provides personal stories that demonstrate his own journey from spiritual seeker to Druid.
About the Author

Ivan McBeth, a Druid in the Order of Bards, Ovates, and Druids (OBOD), founded the Green Mountain Druid Order, a modern mystery school based in Worcester, Vermont with his partner Fearn Lickfield. Ivan's passion was the creation of sacred space, especially stone circles. A founding member of the Circles for Peace project in the United States, he was co-responsible for the Burlington Earth Clock and 25 other full-sized stone circles around the world, including the large Swan Circle on the site of the Glastonbury Music Festival in the UK and the Kinstones in Wisconsin. Ivan died in 2016.


Philip Carr-Gomm is Chief of the Order of Bards, Ovates and Druids. Philip is the author of a number of works on Druidry, and since the publication of his first book in 1991 he has been in demand worldwide for radio, television and newspaper interviews.


Orion Foxwood was born with the second sight in the Shenandoah Valley in Virginia, area rife with the folk practices of the southern and Appalachian tradition. He lectures in across the United States and the U.K.

Praise For The Bardic Book of Becoming: An Introduction to Modern Druidry…
"The Bardic Book of Becoming is a book modern Druids have needed for a long time. Deeply visionary, it offers a look into the spirituality of modern Druidic practice and the underlying beliefs and ideas which sustain it. I would recommend this not only to Druids everywhere, but to all those wishing to know more of this growing spiritual practice." --John Matthews, author of The Druid Source Book and Celtic Shamanism

"This book is a paean of love for the Earth from a great smiling bear of a man. Such was Ivan McBeth. There are as many types of Druidism as there are Druids in this world, and in this book Ivan outlines what I call "Druidry of the Spirit", the path of the Heart from an English Druid's perspective. Anyone who wants to learn about modern Druids will benefit from this volume as will those following the path of Nature Spirituality. After reading the book they will never look at the Sacred Land the same way again." --Ellen Evert Hopman, Archdruid of Tribe of the Oak, and author of A Legacy of Druids: Conversations with Druid Leaders from Britain, the USA and Canada, Tree Medicine Tree Magic, and other volumes

"Ivan McBeth, has always meant three things to me: good friend, thoughtful wisdom, and world's foremost stone circle builder. Bigger than life, he needed two chapters in my book Stone Circles: A Modern Builder's Guide. He wouldn't fit in one. But it's the thoughtful wisdom, a lifetime's worth, that Ivan's posthumous book is all about. If you want to take up Druidry, or are curious about how it would grace your life -- and that of Gaia, our planet -- this book is the place to start." --Rob Roy, director of Earthwood Building School and author of 17 books including Cordwood Building, www.cordwoodmasonry.com

"The Bardic Book of Becoming bubbles with vibrancy and creativity, as did its author. A book of Druid basics, it glints with deeper wisdom. I don't agree with every word, but wholly concur with its shimmering intention, its cry for personal responsibility and inspiration." --Emma Restall Orr, author of Living With Honour, The Wakeful World, and other books on Druidry and animism

"Ivan McBeth was a great teacher, guide, and a good friend. His view of the world was magical, visionary and shamanistic. This book is a wonderful gift and legacy to leave us all. Highly recommended." --Damh the Bard

"Ivan McBeth was a great teacher, guide, and a good friend. His view of the world was magical, visionary and shamanistic. This book is a wonderful gift and legacy to leave us all. Highly recommended." --Damh the Bard