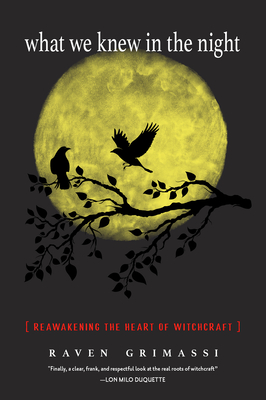 What We Knew in the Night
Reawakening the Heart of Witchcraft
Paperback

* Individual store prices may vary.
Description
Explores the roots of witchcraft while providing an integrated magical system to serve the modern witch
Raven Grimassi is among the pioneering authors of the modern witchcraft renaissance. In What We Knew in the Night, he presents a cohesive and complete system of witchcraft based on traditional sources. The author's premise is that, beginning in the 1980s, with the rise of modern metaphysical publishing, authors began presenting very personal witchcraft practices. In the process, traditional and formerly well-established practices fell into obscurity, which potentially lead to confusion.
What We Knew in the Night uncovers and clarifies those buried gems for a new generation, assembling and integrating key components of witchcraft, past and present. Grimassi lays out key mystical and practical foundations of witchcraft and restores their important role.
Sharing lessons and advice from his own almost 50 years of personal study and practice, Grimassi explores what he describes as the "heart of the old rites." He also offers practical instructions and a clear 5-step process of empowerment—one chapter for each step —for anyone who wants to walk the path of witchcraft:

Virtue of the Moon
The Wafting
The Witch's Blade
The Clay Pentacle
The Witch's Ring
Having accomplished these steps, the reader will possess the "quintessence of witchery" and be firmly grounded in the arcane art of witchcraft.
Praise For What We Knew in the Night: Reawakening the Heart of Witchcraft…
"With What We Knew in the Night, "Raven Grimassi shares the heart, soul, and wisdom of the Old Craft elders with his readers, drawing from things half-forgotten and never written, inviting us to know what they knew, and incorporate it into our own Craft. This book is a treasure for future generations." --Christopher Penczak, award-winning author and co-founder of the Temple of Witchcraft
— Christopher Penczak

"In What We Knew in the Night, Raven Grimassi shares his legacy of witchcraft. This book will serve as a classic treatise on witchery for many years to come." —Judika Illes
— Judika Illes

"As the final book written by Raven Grimassi before his passing, What We Knew in the Night: Reawakening the Heart of Witchcraft is the crown jewel of the legacy of countless contributions that this extraordinary man has provided the witchcraft world. Grimassi provides the deep wisdom that comes from being involved in the witchcraft world for half a century: training, teaching, lecturing, writing books, and interacting with witches and occultists of all types. The book provides what no other book on witchcraft does - a perspective that can only come from both observation and involvement within witchcraft for over 60 years. In the book, Raven reminisces on mysteries that he feels have been lost from those early years before the modern witchcraft and magick renaissance and this book's goal is to preserve that knowledge. These mysteries are those that the witches, regardless of tradition, all knew when gathering together in secret in the night during those early years, hence the title. As such, the insight and sagacity provided within the pages of this book are unparalleled and invaluable to any earnest witch seeking to dive deeper into the heart of the spirit of witchcraft." --Mat Auryn, author of Psychic Witch: A Metaphysical Guide to Meditation, Magick, and Manifestation
— Mat Auryn

"Raven Grimassi's work is a treasure trove of knowledge and practice that he has won not only by study and synthesis, but through his decades of personal practice in the Craft. His teachings, timeworn, tried and true, are a gift to us . . ." --Timothy Roderick, author of Wicca: A Year and A Day, Dark Moon Mysteries, and other books
— Timothy Roderick

"What We Knew in the Night: such an evocative title, so much information, including some that was almost certainly secret initiatory lore. I found this book to be strangely moving; Raven Grimassi reminds us how different the early witchcraft revival of the mid-20th century was to the widespread popular practices today. He takes us back to primal ancient roots that inspired a new radical movement in the 1960s… I was part of that revival in Britain. The core of this book is potent original witch-magic. It reveals the ageless whisper of Ancient Spirit Voices speaking through, and in harmony with, a committed and experienced witch." --R J Stewart, author of The UnderWorld Initiation and many other books on the magical arts
— RJ Stewart

"In What We Knew in the Night, Raven Grimassi reintroduces teachings from the 60s and 70s, tending the roots and branches of the modern Western practice of witchcraft and reminding us of who we were by revealing how we've changed. The growth and development of modern practice is solely dependent upon a proper understanding of the past and, in this final treatise, Raven does that in a time honored, winding-way-manner that is sure to guide and inspire both longtime admirers of his work and new practitioners alike. Hail the traveler!" --Christopher Orapello, co-author of Besom, Stang & Sword
— Christopher Orapello

"With this extraordinary book, Raven Grimassi has reached across the veil to present us with one last gift: his wealth of knowledge of the Craft, laid out in perfect detail. Filled with the teachings and rites of the Old Ways, and laced with personal anecdotes, What We Knew in the Night truly is his legacy: a treasure trove of information that readers will not find elsewhere and a must read for both seasoned practitioners and those new to the Craft." --Dorothy Morrison, author of The Craft and Utterly Wicked
— Dorothy Morrison

"In What We Knew in the Night, Raven Grimassi has once again given us a treatise that guides us through a system of witchcraft with passion, clarity and depth of thought." --Andrew Theitic, publisher of The Witches' Almanac
— Andrew Theitic

"Grimassi (Communing with the Ancestors), a scholar of neopaganism, harkens back to what he considers the heyday of witchcraft in America during 1960s and '70s in this illuminating history and manual. He considers the common practices of lunar- and forest-based witchery (both of which originated in European paganism) as the "Rooted Ways." Arguing that modern witches should return to older sources, Grimassi believes that overcodification of practices has led to witches becoming "lost in the labyrinth" of scholarship. Proposing a loose structure to practicing witchcraft, Grimassi asserts that those interested in learning about the tradition should focus on the "hunter-gatherer" essence of magic. He points to writers who placed an "emphasis on self-initiation and personal intuition," such as Gerald Gardner, Alex Sanders, Sybil Leek, and Doreen Valiente, whom he views as seminal figures of a 1960s Wicca renaissance. Including many references to their work, he then explores European witch folklore, traditional witch deities (such as the "Antlered God of the Forest"), rituals (such as "Drawing Down the Moon"), and witch tools (such as the wand and the pentacle). Readers interested in the basics of witchcraft in the European tradition will find a cornucopia of helpful information in Grimassi's accessible guide." --Publishers Weekly
— Publishers Weekly

"Over his long creative career, readers were privileged to walk with Raven Grimassi as his spirituality grew and changed. His last books reveal a man who walked his talk, one who wore his beliefs on his sleeve, as well as his sense of humor. This final book--What We Knew in the Night: Reawakening the Heart of Witchcraft--does not disappoint. It is rich and generous and beautiful. It is Grimassi at his best." --H. Byron Ballard, author of Earth Works: Ceremonies in Tower Time
— H. Byron Ballard
Weiser Books, 9781578636518, 272pp.
Publication Date: September 1, 2019
About the Author
Raven Grimassi was a neo-pagan scholar and award-winning author of numerous books on witchcraft, Wicca, and neo-paganism. He was a member of the American Folklore Society and was a cofounder and codirector of the Crossroads Fellowship, a modern Mystery School tradition.