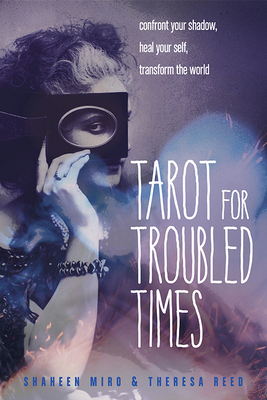 Tarot for Troubled Times (Paperback)
Confront Your Shadow, Heal Your Self & Transform the World
Weiser Books, 9781578636556, 288pp.
Publication Date: July 1, 2019
* Individual store prices may vary.
Description
Out of Darkness Comes the Light of Transformation
Each of us has a shadow that darkens our inner and outer lives. In Tarot for Troubled Times, Shaheen Miro and Theresa Reed show us how working with the shadow—facing it directly, leaning into it rather than away—releases power that can free ourselves from negative mental habits and destructive emotions to find healing ourselves and others. Tarot, as the authors show, offers a rich and subtle path for this profound transformation.
Through this book, you will discover a different approach to tarot, life, and self-empowerment.
Befriend our shadow by working with the archetypes of the Major Arcana
Discover—through affirmations, tarot prescriptions, and other healing modalities—how to empower ourselves and find our true voices
Take our newly found powers and speak out so that we can become a helpful ally for the light and begin to do your greater work in the world
Tarot for Troubled Times is not just another book on how to read the tarot—the authors provide specialty readings and suggested practices for issues such as grief, addiction, depression, fear, anger, divorce, illness, abuse, and oppression, and provide practical suggestions for stepping up as an ally or leader so that you can shape social policies. With a selection of mindful, introspective tarot spreads, you'll learn how the Tarot can help you rewrite your healing story and change your life, and help transform the world.
About the Author

Shaheen Miro is a spiritual nomad working with people all over the world to help them reclaim their power through intuitive guidance, energy work, and spiritual cleansing. As a tarot and tea leaf reader, he conducts workshops and presentations nationally. Visit him at www.shaheenmiroinsights.com.

Theresa Reed
is the founder of the Astrology Bytes website. She has been a professional, full-time astrologer and tarot reader for over 25 years. Her monthly horoscopes and Star School astrology series are two of the most popular features on her online platforms. She has been featured on
Nylon, Refinery29, The Numinous, mindbodygreen, Real Talk Radio, Beyond Worlds
, and
Spirituality and Health
and has appeared on numerous other podcasts, radio shows, and WebTV. Visit her at thetarotlady.com.
Praise For Tarot for Troubled Times: Confront Your Shadow, Heal Your Self & Transform the World…
"Tarot for Troubled Times is a powerful and poignant spiritual handbook for breaking through self-limiting belief systems and stirring hope and awakening to new personal discoveries. Filled with journaling prompts, affirmations, and tarot reading spreads to deal with depression, anxiety, grief, addiction, this book will show you how to work through your own fears and inner shadowscapes and break detrimental cycles. Miro and Reed will inspire you to believe in your own magic. Heartfelt, encouraging, and beautifully written, Tarot for Troubled Times is a book of healing and personal evolution." —Benebell Wen, author of Holistic Tarot
— Benebell Wen
"Get ready to do some deep and powerful inner work with this book. Shaheen and Theresa do not pull any punches. They hold a mirror up to the reader in a way that is both empowering and challenging but much needed. Tarot for Troubled Times goes beyond Tarot 101 to the core of who we are, our energy as tarot readers, and what we can allow our lives to become. Through personal insights, rituals, meditations and reflective exercises you the authors lead us on a supportive journey through self-discovery and tarot card exploration. Tarot for Troubled Times is a treasure for any tarot reader or student." —Ethony Dawn, author of Your Tarot Court
— Ethony Dawn
"Tarot For Troubled Times manages to be a primer on shadow work, tarot, and magick for the collective and the personal all at once while also digging deep and providing plenty of information for seasoned readers and magickal practitioners. The book manages to stay empowering and uplifting even though the topic at hand can get heavy on it's own. Reed and Miro are both seasoned and skilled at what they do but what makes them both special is the heart that they put into their work. It's that heart that shines brightest in this book, not only leading us through navigating our own and the world's darkest waters but holding our hand and making us feel supported every step of the way." —Cassandra Snow, author of Queering the Tarot
— Cassandra Snow
"Theresa Reed and Shaheen Miro's Tarot for Troubled Times is a truly beautiful and essential book for anyone who desires to take their Tarot practice to a deeper level. This book encourages us to look to the Tarot as a North Star for the times we live in and to open its arms to the hard, the scary, and the confusing aspects of life. Filled with helpful tools, beautiful examples, and guiding prompts to support readers on their path, Tarot for Troubled Times is part of a missing link in the canon of Tarot books -- one that invites us to embrace the mud on the path to the lotus rather than try to bypass it." —Lindsey Mack, creator of Tarot for the Wild Soul
— Lindsey Mack
"Tarot For Troubled Times is a treasure to anyone interested in blooming in the face of shadow. Far more than your standard instructional tarot guide, this is a book of hope, of healing, and of insight. Filled with rituals, meditations, journal prompts and lessons on the tarot, you will come away feeling whole, validated, and magical." —Lisa Marie Basile, author of Light Magic for Dark Times and Wordcraft Witchery
— Lisa Marie Basile
"It's sometimes a little disheartening to see the saccharine 'love and light' posts all over the internet. Sometimes, you are stuck in the dark and twisties, and you need someone to meet you there, take your hand, and show you the way out. This is the book for those times. Shaheen Miro and Theresa Reed show you how to welcome in the shadow side of life, give you tools to deal with it, and teach you how to embrace it, make it a shield or a weapon, and walk forward with confidence. This book is a safe space for those who struggle and isn't arrogant enough to try to force a smile on your faces. This is a real, honest handbook for peace of mind and I'm thrilled that it's in the world." —Melissa Cynova, author of Tarot Elements and Kitchen Table Tarot
— Melissa Cynova
"Are you ready to be empowered? Like Spirit speaking directly to you, Miro and Reed here share many paths to intentional, energy healing. Discover how healing yourself heals the world; how honoring yourself honors life. Through self-questioning and practices that are focused and enhanced by Tarot spreads, rituals, affirmations, birth and year energies, and elemental tools, this empowerment journey will be profound and deeply meaningful." —Mary K. Greer, author of Who Are You in the Tarot?
— Mary K. Greer
"Tarot for Troubled Times is a brilliant look at how to work with the sacred art of Tarot and divination to support ourselves during the tough times—when we need the gifts of Tarot the most! Theresa Reed and Shaheen Miro do a beautiful job of walking the reader through the basics that they need to know in order to get started. Then they address a host of situations that are stressful, frustrating, and down-right troubling in manner that is practical, calm, compassionate, and full of wisdom. Everyone interested in Tarot—professional reader and enthusiastic amateur alike—needs to have this book on their shelves." —Briana Saussy, author of Making Magic: Weaving Together the Everyday and the Extraordinary
— Briana Saussy
"Tarot for Troubled Times is an ally, a guide for us to understand our shadow, our inner wisdom, and the voice of the tarot. This is the sort of book I've needed in the past without knowing it; a comprehensive guide for tarot as a tool and resource to process and grow. Both Shaheen Miro and Theresa Reed's light shine through in this book, allowing us to use the tools and symbols of the tarot to lend a more delicate ear to our shadow, self, and needs. Through shadow work, magic, healing, the archetypes of the tarot and collective work through activism, this book guides you into harnessing your fullest self, even in the hardest times. A true gift that any mystic, witch, or tarot reader deserves and one that everyone needs." —Gabriela Herstik, author of Inner Witch: A Modern Guide to the Ancient Craft
— Gabriela Herstik
"Tarot for Troubled Times is exactly what we all need right now. It's not a book on Tarot--it's a book on living, using the Tarot as a tool to deepen our understanding of ourselves and compassion for others. Smart, sharp, and kind, this books is a crucial navigational tool for a tumultuous era." —Courtney Weber, author of Tarot for One: The Art of Reading for Yourself and The Morrigan: Celtic Goddess of Magick and Might
— Courtney Weber
"Tarot for Troubled Times is just what the spiritual doctor ordered for our current energetic climate! A significant guide for modern times, it offers the powerful antidotes that can help us effectively cope with the turmoil of our inner and outer worlds. This book has deepened my relationship with Tarot in an innovative way and has sharpened my lens on how I can use this intuitive tool medicinally for myself and others." —Tatianna Morales, creator of Tatianna Tarot
— Tatianna Morales