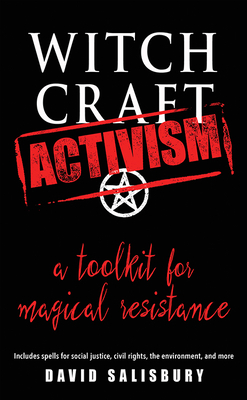 Witchcraft Activism
A Toolkit for Magical Resistance (Includes Spells for Social Justice, Civil Rights, the Environment, and More)
Paperback

* Individual store prices may vary.
Description
The first hands-on guide to witchcraft activism with practical tips on everything from joining activist groups to conjuring spells for self-protection
There is a movement on the rise, one that brings the worlds of social justice and political activism together with the practice of witchcraft. Activists wish to add magical methods to their arsenal, while spell casters seek to use their powers to resist oppression. Written by an experienced witch-activist and with the current political climate in full view, the book shows readers how to learn spells for self-protection and body shielding, as well as methods of developing enhanced psychic intuition and situational awareness. Salisbury explains how and why to conjure spirits of defense, land spirits, ancestral spirits of activism, as well as your own personal guardian spirits. Included are rituals, spells, and sigils, written clearly and simply, so that even someone with absolutely no previous experience in spell casting can immediately feel empowered and join the "witch resistance."
Praise For Witchcraft Activism: A Toolkit for Magical Resistance (Includes Spells for Social Justice, Civil Rights, the Environment, and More)…
"An invaluable book in such hard times. Witchcraft Activism really gets into the realities of what it takes to make lasting, positive change through the political machine. Whether it be grassroots activism at the local level or marching on the National Mall, David Salisbury gives us the 411 on what it takes and how to organize to make change happen. From social justice spells to self-protection wards on the picket lines, there's plenty of magic and real-world action for everyone to apply to their own activism,  regardless of whether you're a practitioner of witchcraft or are just passionate to make a difference in politics." -- Tomás Prower, author of Queer Magic: LGBT+ Spirituality and Culture from Around the World
— Tomás Prower
"I've been a huge fan of David Salisbury as both an author and a human being for quite a while now. His work in regards to both activism and witchcraft is not only highly inspiring, but David is one of the most authentic and dedicated human beings I've had the pleasure of coming across. David is neither an armchair occultist nor a keyboard warrior activist -- he's someone who is always rolling up his sleeves to do the actual work both behind the scenes and on the front lines in both these areas. Witchcraft Activism: A Toolkit for Magical Resistance is a masterful blend of these two areas of Salisbury's expertise and passion. The book is a fantastic and intelligent guide employing strategic tactics of using magick to create much needed social change that anyone can operate, regardless of their magickal experience or skill level." --Mat Auryn, author of Psychic Witch and blogger of For Puck's Sake on Patheos Pagan
— Mat Aryn
"David Salisbury's Witchcraft Activism is clearly the product of someone who has done the difficult, unglamorous, boots-on-the-ground work required for creating social and political change. If you want spells and magical advice, you'll find them, of course, but Salisbury's insights into everyday activism are where the book stands out." --Michael Hughes, author of Magic for the Resistance: Rituals and Spells for Change
— Michael Hughes
"Utilizing personal and magical power to impact change is at the heart of activism. It is within the fibers of our spirits to navigate the space in between the present and the limitless future; This knowingness leads to accountability and manifestation. In Witchcraft Activism, David Salisbury explores the many different ways that witchcraft and activism collide, and some of the fundamental steps to engaging the power of both sides to support our desired outcomes. Whether protesting in the streets, petitioning your local politician, or working the magic on your altar, this book brings attention to the interwoven threads that enmesh our workings with our sociopolitical power." –Crystal Blanton, author of Shades of Ritual and Shades of Faith
— Crystal Blanton
"Witchcraft Activism is an invaluable tool. David Salisbury's work is clear and easy to follow. A perfect blend of history, practical applications, and spiritual devotions, this belongs on the shelf of every magick practitioner, whether or not they are an activist...as well as on the shelf of every activist, whether or not they practice magick." —Courtney Weber, author of Brigid: History, Mystery, and Magick of the Celtic Goddess 
— Courtney Webber
"Those who practice witchcraft often keenly feel the movements and actions of powers in the world, both spiritual and mundane. Naturally, more and more practitioners are being called to work their magick to protect, heal, foster, and advance their communities. More witches are becoming activists, and more are writing openly about using witchcraft as a tool for activism. One of the things that makes David Salisbury's Witchcraft Activism: A Toolkit for Magical Resistance especially useful is that it addresses what is needed to become an activist and maintain the balance needed for the long road ahead. The workings, spells, exercises, protocols for planning, and so on are clear-eyed and practical, but it is the care and feeding of the activist's heart and soul that makes this book a treasure." --Ivo Dominguez, Jr., author of Keys to Perception: A Practical Guide to Psychic Development
— Ivo Dominguez, Jr.
"Witchcraft is inherently political; the work naturally highlights the connections between us as human beings and the world around us. In his book, David Salisbury eloquently describes how the metaphysical and physical can definitely go hand-in-hand to create effective social and environmental change, regardless of your path, position, or ability. This practical guide covers easy-to-understand techniques, and demonstrates how to methodically apply them to a variety of situations, as well as touching on inspiring history to reflect upon. Witchcraft Activism is an accessible and valuable resource for building community and bringing about effective change." --Laura Tempest Zakroff, author of Weave The Liminal: Living Modern Traditional Witchcraft, Sigil Witchery and editor of The New Aradia: A Witch's Handbook to Magical Resistance
— Laura Tempest Zakroff
"Salisbury (A Mystic Guide to Cleansing and Clearing), Wicca teacher and organizer with pagan organization the Firefly House, offers training in basic activism and the use of magic to effect change in this worthy primer. Although Salisbury is clear about his own background working for LGBTQ and environmental causes, he carefully avoids tying his instruction to any particular agenda, making this a resource that will remain useful outside of any specific social or political situation. Salisbury's approach is smart, detailed, and practical; magic practitioners interested in activism will find his insights concise and valuable." –Publishers Weekly
— Publishers Weekly
Weiser Books, 9781578636570, 192pp.
Publication Date: March 1, 2019
About the Author
David Salisbury is a queer, vegan witch and a devotee of the goddess Hekate. As High Priest of Coven of the Spiral Moon, he teaches Wicca-and witchcraft-based topics throughout the mid-Atlantic region. The focal point of his leadership is an activism and service-based approach that seeks to expand the unique gifts that each person came into the world with. He currently lives in Washington, DC where he works to cofacilitate Firefly, a national Wiccan tradition and head up the Firefly House, the largest pagan organization in the mid-Atlantic region with nearly 600 members. David has been featured in the major DC media, including the Washington Post online (the video profile was viewed 82K times). Visit him at www.daviddsalisbury.com.